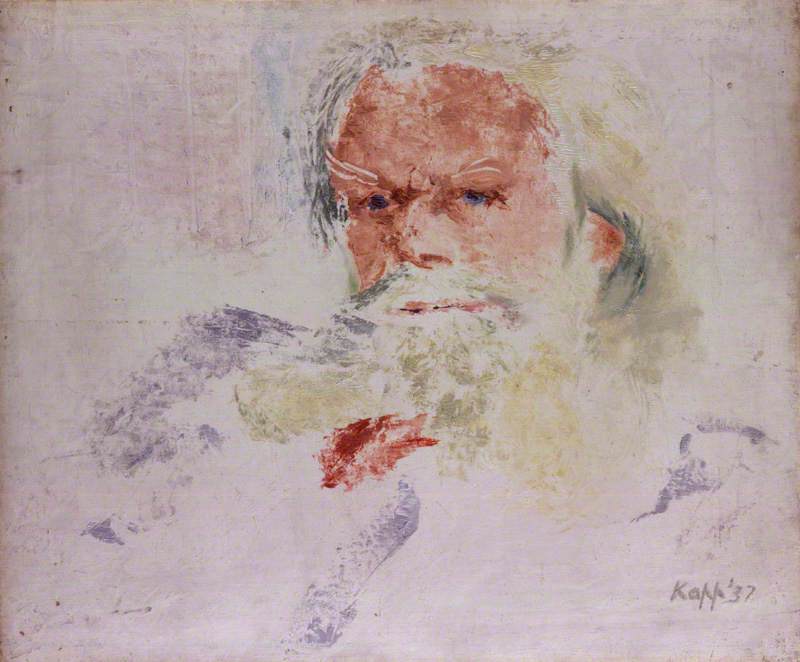 © the estate of Edmond Kapp, courtesy of Chris Beetles Gallery. Photo credit: National Portrait Gallery, London
Painter and draughtsman, Kapp was a masterly caricaturist, as shown in a series of now-scarce books such as Personalities, published by Martin Secker. Born in London, Kapp was educated at Christ's College, Cambridge, and in Paris and Rome. He had several dozen one-man shows in London and provincial galleries as well as on the continent, in Canada and America. A 50-year retrospective was held at Whitechapel Art Gallery in 1961, other shows at Barber Institute of Fine Arts, Birmingham, 1999 and 2001. In World War II Kapp was an Official War Artist. Kapp's work is in many distinguished private collections, as well as the National Portrait Gallery, Imperial War Museum, the Fitzwilliam in Cambridge and the Ashmolean, Oxford. During the final 20 years of his life Kapp often worked in an abstract style.
Read more
He was the brother of Helen Kapp and in 1932 married the sculptor, painter and illustrator Polia Chentoff, who died of a cerebral tumour the following year. Kapp lived in London.
Text source: 'Artists in Britain Since 1945' by David Buckman (Art Dictionaries Ltd, part of Sansom & Company)