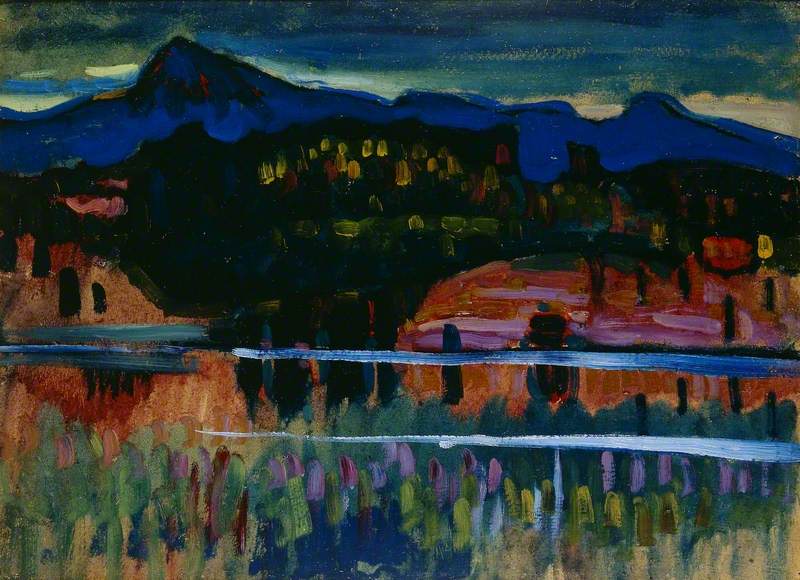 Photo credit: Ashmolean Museum, University of Oxford
(b Moscow, 22 Nov. [4 Dec.] 1866; d Neuilly-sur-Seine, 13 Dec. 1944). Russian-born painter, printmaker, designer, teacher, and writer, who became a German citizen in 1927 and a French citizen in 1939, one of the most important figures in the development of abstract art, as a theoretician as well as a practitioner. He abandoned a promising university career teaching law, partly under the impact of an exhibition in Moscow of French Impressionists, at which one of Monet's Haystack pictures made a powerful impression on him, and in 1896 he moved to Munich to study painting. Munich was to be the centre of his activities until 1914, but he travelled widely in this period and spent a year in Paris, 1906–7. His pictures at the turn of the century combined features of Art Nouveau with reminiscences of Russian folk art, to which he added a Fauve-like intensity of colour.
Read more
In 1909 (the year in which he was one of the founders of the Neue Künstlervereinigung) he began a series of Improvisations, in 1910 of Compositions, and in 1911 of Impressions; in these he gradually eliminated all representational content to arrive—in about 1912—at pure abstraction. The choice of names in these paintings, deriving from musical terminology, was significant, for like the Symbolists he was interested in analogies between colours and sounds (a great lover of music, he played the cello and piano and was a friend of Arnold Schoenberg, whose revolutionary atonality he equated with his own experiments). Kandinsky himself described how he came to recognize that colour and line in themselves could be sufficient vehicles for the expression of emotions: he returned to his studio one evening and failed to recognize one of his own paintings that was lying on its side, seeing in it a picture 'of extraordinary beauty glowing with an inner radiance…Now I knew for certain that the subject matter was detrimental for my paintings'. He formulated his philosophical justification for abstract art shortly before he began painting purely abstract pictures, in his famous book Über das Geistige in der Kunst (Concerning the Spiritual in Art), which was written in the summer of 1910 and published late in 1911 (it bears the date 1912). His views were influenced by mysticism and Theosophy: he thought that if the artist could go beyond the outer shell of appearances he could 'touch the beholder's soul'; colour was a prime means of achieving this goal, for he believed that colours have 'a spiritual vibration' that could be linked with 'a corresponding vibration in the human soul'.In 1911 Kandinsky was one of the founders of the Blaue Reiter, and the brief lifetime of this group (broken up by the First World War) marked a period of intense achievement and growing fame for him. A major work from this period is Composition VI (1913, Hermitage, St Petersburg), a huge, gloriously coloured apocalyptic vision. On the outbreak of the war in 1914 he returned to Russia, where he was highly active as a teacher and administrator in various cultural organizations instituted by the new Soviet regime. However, he was out of sympathy with the growing tide of ideas that subordinated fine art to industrial design in the service of the proletariat (even though he made designs for cups and saucers himself), and in 1922 he accepted an offer to take up a teaching post at the Bauhaus, where he remained until it was closed by the Nazis in 1933. His painting of this period became more geometrical, but in addition to circles and triangles he used arrow-like forms and wavy lines in a manner that ran counter to the typical Bauhaus concern with geometrical purity (Swinging, 1925, Tate, London). In 1926, to mark his sixtieth birthday, an exhibition of his work toured Germany, and by this time he was an internationally renowned figure (his reputation was spread in the USA by the Blaue Vier). He left Germany for France in 1933 and settled at Neuilly-sur-Seine, a suburb of Paris. The paintings of his last period represent something of a synthesis between the organic style of his Munich period and the more geometrical manner of his Bauhaus period, but there was also a new element of fantasy in the use of amoeba-like forms that show the influence of Surrealism (Sky Blue, 1940, Pompidou Centre, Paris). Examples of his work are in many of the world's leading collections, with particularly rich representations in, for example, the Lenbachhaus, Munich (see Lenbach); the Guggenheim Museum, New York; and the Pompidou Centre, Paris (many presented by his widow).
Text source: The Oxford Dictionary of Art and Artists (Oxford University Press)