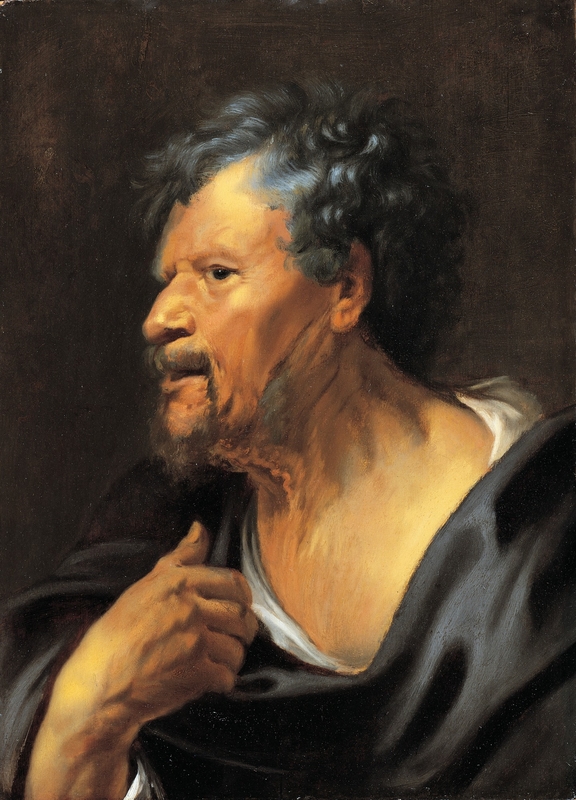 Photo credit: © Schorr Collection/Bridgeman Images
(b Antwerp, 19 May 1593; d Antwerp, 18 Oct. 1678). Flemish painter, the pupil and son-in-law of Adam van Noort, who had previously taught Rubens. Early in his career Jordaens often assisted Rubens, but he had a flourishing studio of his own by the 1620s, and after Rubens's death in 1640 he was the leading figure painter in Flanders. His style was heavily indebted to Rubens, but was much more earthbound, using thick impasto, strong contrasts of light and shade, and colouring that is often rather lurid. His physical types, too, are coarser than Rubens's and his name is particularly associated with large canvases of hearty rollicking peasants. Two of his favourite subjects, which he depicted several times, are 'The Satyr and the Peasant', based on one of Aesop's fables, and 'The King Drinks', which depicts a boisterous group enjoying an abundant Twelfth Night feast.
Read more
Jordaens's large output, however, included many other subjects, notably religious works and portraits, and he also etched and made designs for tapestries. He rarely left his native Antwerp, but he received commissions from several courts in northern Europe, the most important being The Triumph of Frederick Hendrik (1651–2), an enormous composition painted for the Huis ten Bosch, the royal villa near The Hague. In about 1655 Jordaens became a convert to Protestantism; he continued to paint pictures for Catholic churches, but the work of the last two decades of his life is more subdued.
Text source: The Oxford Dictionary of Art and Artists (Oxford University Press)