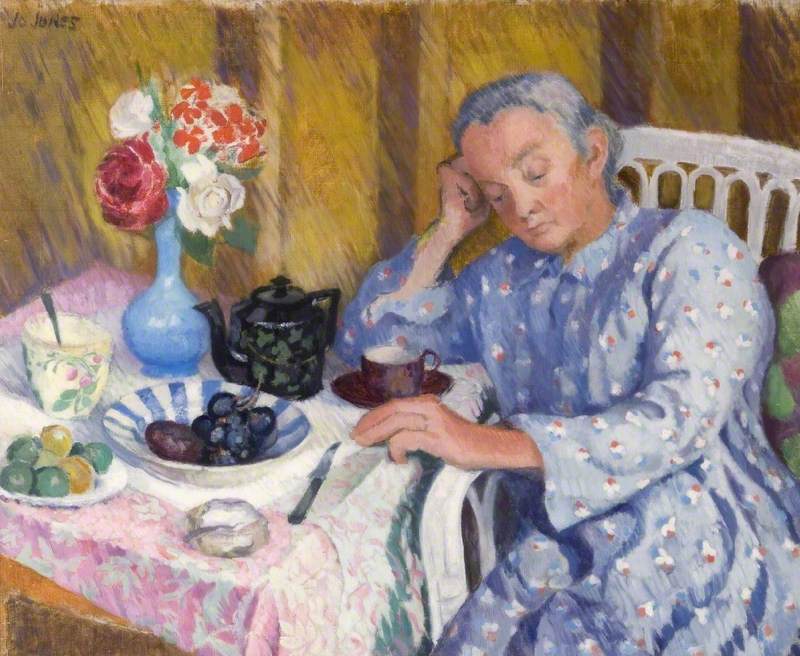 © the copyright holder. Photo credit: Dorset Natural History and Archaeological Society
Painter and draughtsman, born in Knebworth, Hertfordshire, as Violet Madeline Josette Jones. She began painting as a young girl in Jamaica, and her studies included Paris and Zurich in the late-1930s. In 1933 the director of the Tate Gallery, J B Manson, introduced Jones to Wildenstein Gallery, which gave her her first solo show in 1935, from which Contemporary Art Society bought Still Life with Green Peppers. In 1938 she had a show at Galerie Zborowski, Paris, with another at Wildenstein in 1939. In that year she moved to London, where she was thereafter based, although she had a cottage and studio in Dorset. During the war worked as a land girl in Dorset and in Intelligence. There were four distinct working periods as a painter: in Paris and London before the war, in Spain in the 1950s, Morocco in the 1960s and after that mainly in Dorset with occasional journeys abroad, especially to Vevey and Zürich.
Read more
For some years Jones lived with the Sacro Monte gypsies in Granada, and related pictures by her are in the Gypsy Museum at Leeds University. In 1969 The Gypsies of Granada was published, with text by Augustus John, Sacheverell Sitwell, Walter Starkie, Laurie Lee and Marguerite Steen. Showed regularly in Britain and abroad, having a retrospective at Alpine Gallery, 1985. The Michael Parkin Gallery had a memorial exhibition in 1992.
Text source: 'Artists in Britain Since 1945' by David Buckman (Art Dictionaries Ltd, part of Sansom & Company)