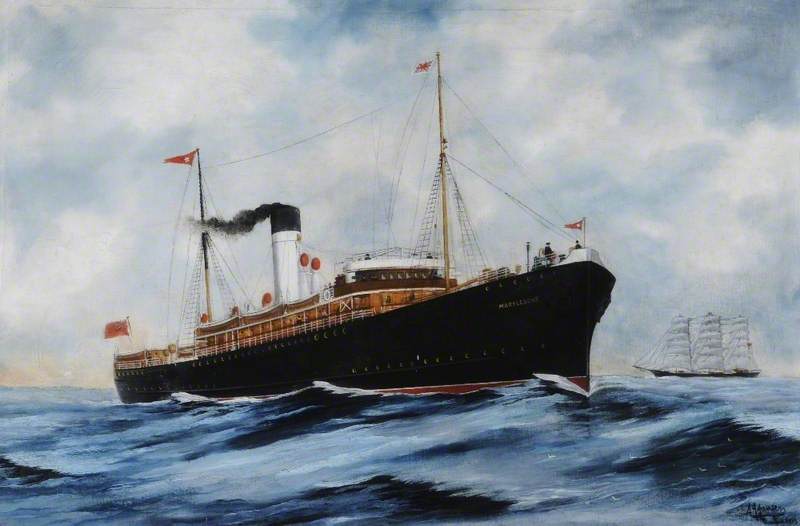 Photo credit: University of Hull Art Collection
Adrianus Johannes ('Arie'/'Harry') Jansen was a Dutch ship-portrait painter who was born in Gouda on 20th April 1863 as the second and only surviving child of Pieter Jansen, at that time a 'dyer's assistant', and his wife Johanna Maria, née Snelleman. Both were Roman Catholics from Gouda and married there in 1860. Jansen's mother appears to have died before 1885.
Read more
Jansen moved to Rotterdam by early December 1884, where his father and stepmother joined him. They apparently did so to help him start running a café and bar at Westerkade 17 on the Nieuwe Maas waterfront. He had by then married, in 1886, Hendrika Christina Gentrop. They had two children, a daughter and a son, the latter dying in 1891 aged only three. In June 1899 Jansen was elected Second Secretary of the Dutch Athletics Association and by August was First Secretary of the Rotterdam Athletics Association as well. In December 1900 he became First Secretary of the Netherlands Cycling Federation, probably continuing until very early in 1906.

The Westerkade café, with a garden in front, and sometimes referred to as Café Jansen in press mentions of the 1890s, was almost adjacent to the Rotterdam offices of the British Great Eastern Railway Company, whose North Sea ferries docked opposite on the quay. The Jansens continued to live there and run it until c.1902. They appear to have had a series of maidservants helping domestically and in the café, including an Aplonia Zevenbergen. By 1906, Jansen had left his wife and daughter and moved to Antwerp with Aplonia, though as Roman Catholics, Jansen never divorced from his wife. Jansen's wife and daughter remained in Rotterdam: he and Aplonia also returned there at the start of the First World War in 1914, only returning to Antwerp in 1925.

As an artist, Jansen appears to have begun as a self-taught amateur. Probably from about 1890, when already running his Westerkade café, he began painting ship-portraits of the Great Eastern Railway Company ferries and other vessels berthing on the Nieuwe Maas and found a market for them among the seamen and other shipping people who comprised his main clientele. While the last official reference to him as a licensee was in 1903, 'artist painter' (kunstschilder) succeeded this on his family registration record. Unless he also received payment for his athletic secretarial duties, he presumably lived largely as a professional ship-portraitist from about 1903 and may have been active for as long as about 50 years overall. His surviving ship-portraits are widely distributed.

He generally painted in oils, depicting the Great Eastern Railway passenger and cargo steamers and others running to Rotterdam, Antwerp and the Hook of Holland, and selling his work to personnel on board the vessels, or ashore, as they lay in harbour. He usually signed 'A. J. Jansen', including Rotterdam or Antwerp and a date, but appears to have been known to British clients as 'Harry', leading to his first initial sometimes being interpreted as 'H'. This was beyond reasonable doubt an anglicization of 'Arie', the common Dutch abbreviation of Adrianus (and there is no evidence that he called himself 'Adriaan'). Only one picture signed 'Harry Jansen' is so far known, dated 1913: this is of the 'Titanic', with an iceberg close behind, now in the National Maritime Museum, Greenwich.

The last painting by him so far identified, dated 1939, is a still-life of fruit and flowers on a table. By this time his age and a dying market for painted ship portraits had probably turned him towards other subjects. A few small Dutch country and figure scenes have also been sighted online, also a copy of Adolph Artz's 'In the orphanage at Katwijk-Binnen', and a commemorative portrait of Charles Fryatt (a Great Eastern Railway ferry captain shot by the Germans in 1916 for attempting to ram the U-boat that attacked his ship). His overall style is simple, colourful and with graphic affinities to commercial poster art. Jansen's wife Hendrika died in Rotterdam in 1928. Aplonia and Jansen finally married in Antwerp on 9th May 1942. Jansen's Belgian residence file suggests they probably had a fairly precarious existence for at least the last 20 years of his life. Jansen died aged 80 in Antwerp on 31 December 1943. Aplonia (b.1880) also remained there to her death in 1966.

Jansen should not be confused with the Danish-born but German-resident marine painter Alfred Jensen (1859–1935), sometimes accidentally called Jansen, who had academic training and became a professor at the Hamburg School of Applied Arts.
Text source: Art Detective