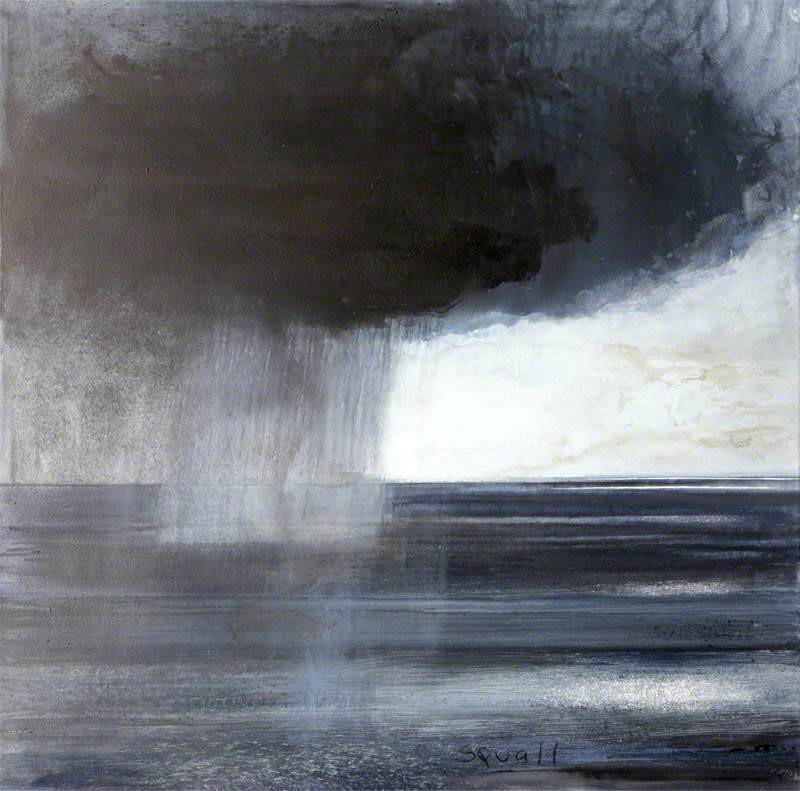 © the artist. Photo credit: The Met Office
Painter, mixed media, born in Blandford, Dorset, who graduated from St Peter's College, Oxford, in 1983 with an honours degreee in zoology and had brief periods at Hertfordshire College of Art and Ruskin School of Drawing in Oxford, under Jane Greenham, but who was essentially self-taught. After graduating, he then spent a year painting and travelling in Africa. He moved to Boscastle, Cornwall, in 1984 to paint full-time, settling in St Just, Penzance, in 1989. He was a member of RWA and Newlyn and Penwith Societies of Artists. Jackson's work was "rooted in the Cornish landscape, seascape and communal psyche, and the natural, human and industrial interventions in the landscape". Group appearances included Rye Art Gallery, 1994; Leicester Art Gallery, 1995; and in 1996 the Celtic Festival at Plymouth Art Centre and Now & Then at David Messum Gallery.
Read more
Had a solo show at Robinson College, Cambridge, in 1984, then exhibited prolifically, later shows including Lancashire Mining Museum, Salford. For this, Jackson went under ground to paint alongside miners at South Crofty, the last working tin mine in Cornwall. For Jackson's exhibition The Long Field, in 2002, The Great Atlantic Map Works Gallery, St Just-in-Penwith, published a book of that title illustrating the pictures. Messum's gave Jackson solo exhibitions in 2003, 2004 and in 2005 with a lavishly illustrated catalogue and in 2004 Newlyn Art Gallery put on his show Porth. Exeter University holds Jackson's work.
Text source: 'Artists in Britain Since 1945' by David Buckman (Art Dictionaries Ltd, part of Sansom & Company)