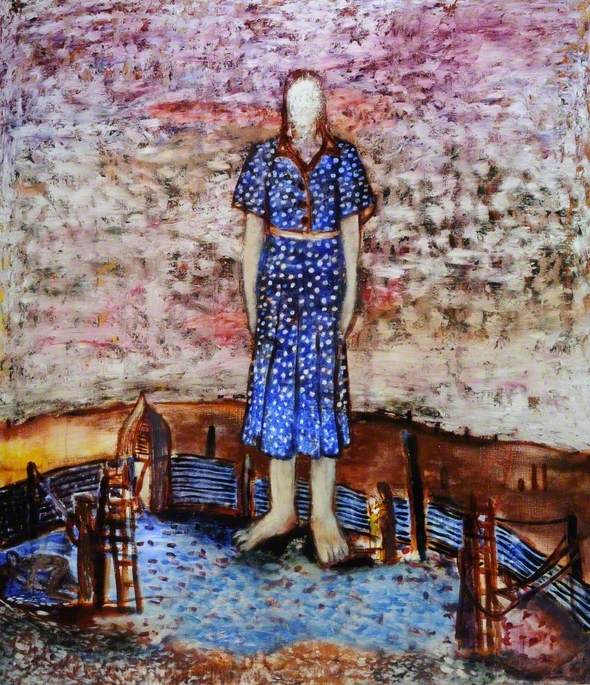 © the artist. Photo credit: Ferens Art Gallery
Painter and teacher, born in Penley, North Wales. Jackowski's parents were Polish, and he spent the first 11 years of his life in a refugee camp on the English Welsh/border, where Polish was spoken. Aged 14, he decided to become a painter and produced his first self-portrait. He studied at Camberwell School of Arts and Crafts, 1966–9, Falmouth School of Art, 1972–3, and Royal College of Art, 1974–7. During his last two years as a student he produced the magazine Eleven 32 with David Drain, also winning an Abbey Minor Travelling Scholarship and the Rodney Burn Award and John Minton Scholarship. Jackowski became artist-in-residence at the University of Surrey in 1978–9, two years later being a prizewinner at Tolly Cobbold Eastern Arts.
Read more
Jackowski was first prizewinner at the John Moores Exhibition, Liverpool, in 1991–2 with his picture The Beekeeper's Son. He had a major show at Marlborough Fine Art in 1986, and in 1988 was represented in the Royal College of Art's Exhibition Road show, by which time he had been on its staff for three years. There were additional one-man exhibitions at Rubicon Gallery, Dublin, Ireland, 2000, Purdy Hicks, 2002, and a Purdy Hicks show toured to University Gallery, Northumbria University, 2003. That included over 80 works on paper spanning 1963–03, of which the artist said that they fluctuated "between a kind of vigilant dreaming and being wide awake…. These images are poetic metaphors for something real, intimate and mysterious in our lives." Jackowski drew on personal experience, films, poetry and art to produce haunting and intense works, examples of which are held by Arts Council. Lived in Brighton, Sussex.
Text source: 'Artists in Britain Since 1945' by David Buckman (Art Dictionaries Ltd, part of Sansom & Company)