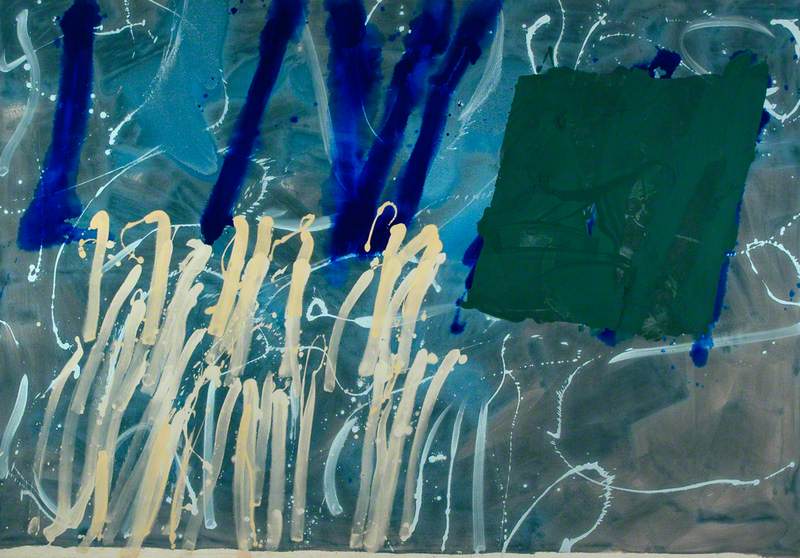 © estate of Albert Irvin. All rights reserved, DACS 2021. Photo credit: Kirklees Museums and Galleries
Painter, printmaker and teacher, born London, which remained his base. Studied at Northampton School of Art, 1940–1, and after five years in Royal Air Force studied at Goldsmiths' College School of Art. Irvin taught for some years from 1960, including Hornsey College of Art, Goldsmiths' College, 1962–83, and gave lessons in Wandsworth Prison. He had his first one-man show at 57 Gallery, Edinburgh, in 1960, and from 1961 held a series at New Art Centre. In 1968 he won an Arts Council Travel Award to America, seven years later gaining an Arts Council Major Award. Also exhibited with LG; had a number of solo exhibitions in Germany; and with Gimpel Fils. In 1990 a retrospective of his paintings, 1960–89, was shown at Serpentine Gallery.
Read more
There were eightieth-birthday shows at Gimpels Fils and Advanced Graphics London in 2002. Arts Council and other important public collections hold his work, which was abstract, brightly coloured and showed a joy in the manipulation of paint. Irvin was elected RA in 1998.
Text source: 'Artists in Britain Since 1945' by David Buckman (Art Dictionaries Ltd, part of Sansom & Company)