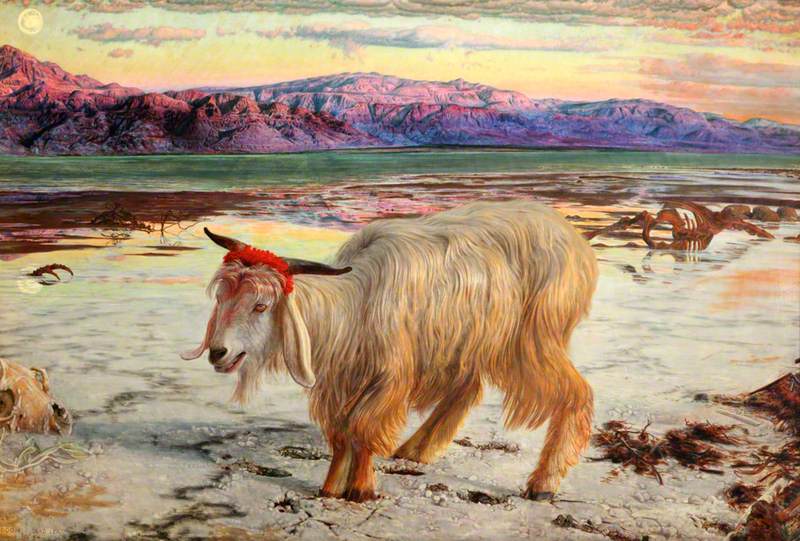 Photo credit: Lady Lever Art Gallery
(b London, 2 Apr. 1827; d London, 7 Sept. 1910). English painter, co-founder of the Pre-Raphaelite Brotherhood in 1848. He was the only member of the Brotherhood who throughout his entire career remained faithful to Pre-Raphaelite aims, which he summarized as finding serious and genuine ideas to express, direct study from nature in disregard of all arbitrary rules, and envisaging events as they must have happened rather than in accordance with artistic conventions. Hunt's work was remarkable for its minute precision, its accumulation of incident, and its didactic emphasis on moral or social symbolism, and he made three visits to the Middle East so he could paint biblical scenes with accurate local detail.
Read more
One of the most famous paintings that resulted from his fanatical devotion to authenticity is The Scapegoat (1854–5, Lady Lever AG, Port Sunlight), showing the outcast animal on the shore of the Dead Sea. His colour tends to be painfully harsh and his sentiment mawkish, but he created some of the most enduring images of the Victorian age, among them The Hireling Shepherd (1851, Manchester AG), The Awakening Conscience (1853, Tate, London), and The Light of the World (1851–3, Keble College, Oxford; a smaller version, 1853–7, is in Manchester AG, and a larger replica, 1900–4, is in St Paul's Cathedral, London). Like the other Pre-Raphaelites, Hunt suffered critical attacks early in his career, but the moral earnestness of his work later made it immensely popular with the Victorian public and he earned a fortune from the sale of engravings of his paintings. In old age he became a patriarchal figure in the art world and he was awarded the Order of Merit in 1905. In the same year he published his autobiographical Pre-Raphaelitism and the Pre-Raphaelite Brotherhood, which is a basic sourcebook on the subject, though somewhat biased.
Text source: The Oxford Dictionary of Art and Artists (Oxford University Press)