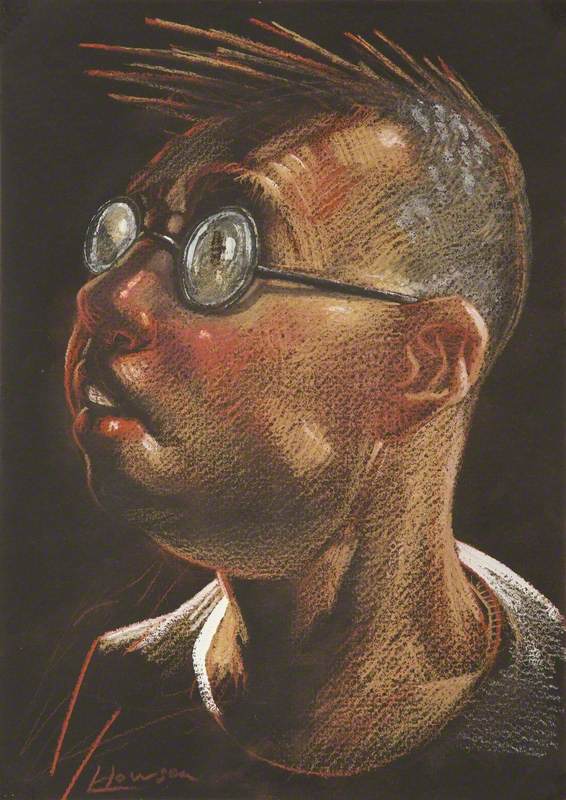 © Peter Howson. All rights reserved, DACS 2022. Photo credit: The Ingram Collection of Modern British and Contemporary Art
Painter, printmaker and mural artist, born in London, moving to Glasgow as a small boy. He attended Glasgow School of Art 1975–77, then took two years off to do a number of jobs, was in the Army for a time and travelled in Europe. He resumed his studies and graduated in 1981. His time off mid-studies provided Howson with useful material for his painting which is characterised by its powerful draughtsmanship, simple imagery and theatrical lighting to depict a masculine world, tough and gritty. Howson soon built up a reputation on leaving college. From 1982–3 he painted murals at the Feltham Community Association, then in 1985 he was artist-in-residence at the University of St Andrews. He won the Arthur Andersen Purchase Award at Compass Gallery, Glasgow, Barras show for the 1986 Mayfest.
Read more
Howson showed widely abroad and his British solo exhibitions included a retrospective at McLellan Galleries, Glasgow, 1993, Roger Billcliffe Gallery, Glasgow, 1999, Flowers West, Santa Monica, California, 2001, Flowers Central, 2002, and Stations of the Cross, Flowers East, 2003, after recovery from alcoholism. A turning-point in Howson's life and career was being chosen as Official War Artist for Britain in Bosnia, sponsored jointly by The Times newspaper and the Imperial War Museum. A further Times-sponsored trip to Kosovo occurred in 1999, even though his Bosnia experiences had left Howson severely traumatised, with a breakdown. The Imperial War Museum and Howson's dealer Flowers East had put on critically acclaimed shows of Howson's war work in 1994. In 2001, Howson designed Scottish Opera's production of Mozart's opera Don Giovanni. Flowers Graphics gave Howson a print retrospective in 2004. Scottish Arts Council, Scottish National Gallery of Modern Art, Tate Gallery, Victoria & Albert Museum and many provincial galleries hold Howson's work. Lived in London.
Text source: 'Artists in Britain Since 1945' by David Buckman (Art Dictionaries Ltd, part of Sansom & Company)