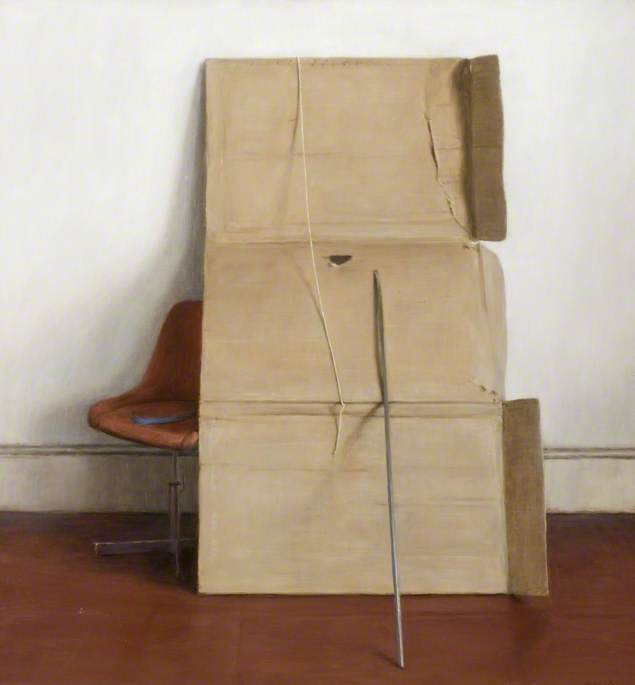 © the artist. Photo credit: Alfred East Art Gallery Permanent Collection
Painter, draughtsman, printmaker and teacher, born in Glasgow. After an attempt to study at Wimbledon College of Art which fell through because of lack of funds, Holland attended a commercial college, then was at St Martin's School of Art, 1965–9. Taught at Chelsea Community Centre, Coventry College of Art until 1972, at a series of art schools in the Midlands, then at Cardiff College of Art, 1974–8, when he left to paint full-time. While at Coventry several pictures were bought by the collector Charles Saatchi. Holland began to show with Nicholas Treadwell Gallery, then Ian Birksted Gallery in 1983 and Thumb Gallery, 1986 (later the Jill George Gallery). Holland's mixed shows included Aspects of Realism, 1976–8, which toured Canada; The Probity of Art, a WAC touring show, 1980; in the same year the British Art Show, an Arts Council exhibition which toured; and People in Great Britain, 1989, a British Council touring show.
Read more
Had a solo show at Roundhouse Gallery, 1979; the following year WAC toured his one-man exhibition; then he showed regularly, with a Jill George UK travelling retrospective in 1991. Later solo exhibitions included Martin Tinney Gallery, Cardiff, from 1992; Oriel, WAC Gallery and tour, 1995; Mineta Move Gallery, Brussels, Belgium, 1999; Il Pollitico, Rome, Italy, from 2000; and Albermarle Gallery, with an extensively illustrated catalogue, 2004. Holland's work – impeccably crafted – went through several phases, including realism with a hinted-at – even sinister – narrative element; still life; and still life with a Surrealistic atmosphere which explored aspects of reality. Tate Gallery, WAC and Metropolitan Museum of Art in New York hold his work. Based in Cardiff.
Text source: 'Artists in Britain Since 1945' by David Buckman (Art Dictionaries Ltd, part of Sansom & Company)