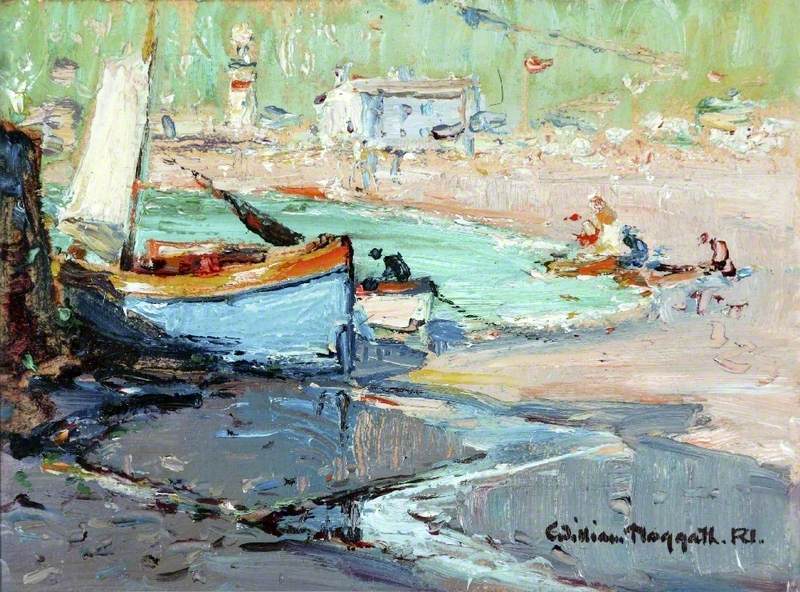 © the copyright holder. Photo credit: University of Liverpool
Painter, mainly of landscapes of the Isle of Man. He was born in Lancaster, of a Cumbrian father and Scottish mother, won a scholarship to the Royal College of Art which he did not take up, but became apprenticed to a local stained glass makers, continuing his studies at the school of art in Lancaster's Storey Institute. Aided by one of the Storeys, Hoggatt studied at the Académie Julian in Paris, 1901–5. While working on a commission at the Tate Gallery he came to know his future wife, Dazine, sister of Leonard Archer who managed the pianist Paderewski, then travelled to Isle of Man to inspect his future home. Hoggatt liked the light and landscape and decided to stay, living at Port St Mary until 1925, then at The Darragh, Port Erin, which became one of the island's intellectual centres.
Read more
Hoggatt was a prolific and widespread exhibitor, especially at the RA Summer Exhibition, also RSA and RSW. He was a member of a number of exhibiting societies, including RI, RBC and RCamA, and was president of the Manx Artists. In 1934 he won a competition to design a stained glass window commemorating the work of T E Brown, the island's national poet. Foxdale Valley, in the collection of Pallant House, Chichester, is a typical solidly drawn pastel. Other works by Hoggatt are in the Manx Museum Art Gallery and in the collections of public galleries in Liverpool, Manchester, Oldham and Preston, as well as several Australian galleries.
Text source: 'Artists in Britain Since 1945' by David Buckman (Art Dictionaries Ltd, part of Sansom & Company)