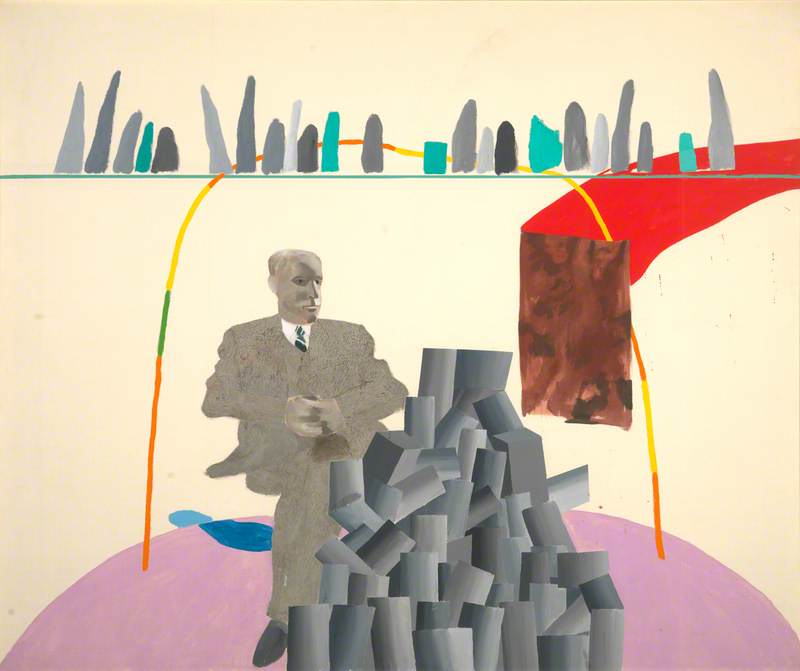 © David Hockney. Photo credit: Arts Council Collection, Southbank Centre, London
David Hockney (b Bradford, 9 July 1937). British painter, draughtsman, printmaker, photographer, designer, and writer, active mainly in the USA. After a brilliant prize-winning career as a student at the Royal College of Art, Hockney had achieved considerable success by the time he was in his mid-twenties, and he has since consolidated his position as by far the best-known and most critically acclaimed British artist of his generation. His phenomenal success has been based not only on his flair and versatility as an artist, but also on his colourful and engaging personality, which has made him a recognizable figure even to people not particularly interested in art. In 1961 he emerged as one of the leaders of British Pop art at the Young Contemporaries exhibition.
Read more
Hockney himself disliked the label 'Pop', but his work of this time makes many references to popular culture (notably in the use of graffiti-like lettering) and is often jokey in mood. His first retrospective exhibition came as early as 1970, at the Whitechapel Art Gallery, London (it subsequently toured to Hanover, Rotterdam, and Belgrade). By this time he was painting in a weightier, more traditionally representational manner, in which he did a series of large double-portraits of friends, including the well-known Mr and Mrs Clark and Percy (1970–1, Tate, London). These portraits are notable for their airy feeling of space and light and the subtle flattening and simplification of forms, as well as for the sense of stylish living they capture. Hockney often paints the people and places he knows best (his art is frequently autobiographical) and has memorably celebrated his romance with Los Angeles (he first visited the city in 1963 and settled there in 1978), particularly in his many paintings featuring swimming pools (A Bigger Splash, 1967, Tate, London). In these works he skilfully exploited the qualities of the new acrylic paint.Hockney has also been outstanding as a graphic artist: his work in this field includes etched illustrations to Cavafy's Poems (1967) and Six Fairy Tales of the Brothers Grimm (1969), as well as many individual prints, often on homoerotic themes. In the 1970s he also came to the fore as a stage designer, notably with his set and costume designs for Stravinsky's The Rake's Progress and Mozart's The Magic Flute, produced at Glyndebourne in 1975 and 1978 respectively. The broader style demanded by stage design has been reflected in his subsequent easel paintings. In the 1980s he experimented a good deal with photography, producing, for example, photographic collages, in which numerous prints are made into a composite patchwork image. Subsequently, he has also produced paintings in a similar vein, using canvases arranged in a grid to create a huge overall image: the largest is Bigger Trees Near Warter (2007, Tate), painted in the open air near his Yorkshire studio, which is made up of 50 canvases in a rectangle measuring about 4.5 m (15 ft) by 12 m (40 ft). Hockney is a stimulating commentator on art and has published several books on his own life and work, as well as Secret Knowledge: Rediscovering the Lost Techniques of the Old Masters (2001), in which he controversially argues that the use of optical aids such as the camera lucida and camera obscura has been much more common in European art than previously thought.
Text source: The Oxford Dictionary of Art and Artists (Oxford University Press)