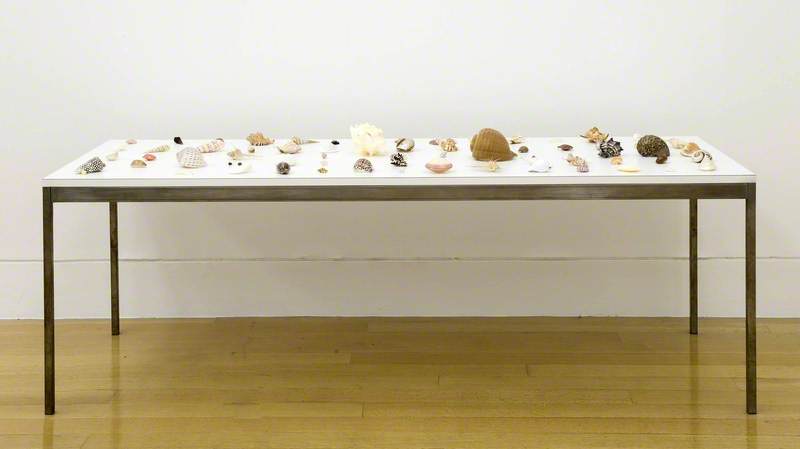 © Damien Hirst and Science Ltd. All rights reserved, DACS 2023. Photo credit: Tate
(b Bristol, 7 June 1965). British sculptor, painter, and designer, whose flair for self-publicity has helped him become probably the most famous and controversial British artist of his generation (Tracey Emin being his only serious rival in this regard). While still a student at Goldsmiths College, London, he made a name for himself by organizing a exhibition of student work ('Freeze', 1988). From his youth he had a fascination with death, and his most famous work is The Physical Impossibility of Death in the Mind of Someone Living (1991, priv. coll.), consisting of a dead tiger-shark balanced and weighted so that it floats in preserving fluid in a large tank made of glass and steel. In 1995 he was awarded the Turner Prize. The work he showed at the exhibition of shortlisted candidates' work at the Tate Gallery was Mother and Child Divided, consisting of four tanks containing the severed halves of a cow and calf.
Read more
According to the accompanying catalogue, 'Hirst strips the closest of bonds between living creatures to its starkest reality', but many people hated the work, and a letter to The Times suggested that the Tate authorities must be suffering from mad cow disease. His most characteristic paintings consist of rows of coloured spots. His recent work includes For the Love of God (2007), a platinum cast of a human skull encrusted with diamonds; it is said to have been sold to an investment group for £50,000,000. See also Young British Artists.
Text source: The Oxford Dictionary of Art and Artists (Oxford University Press)