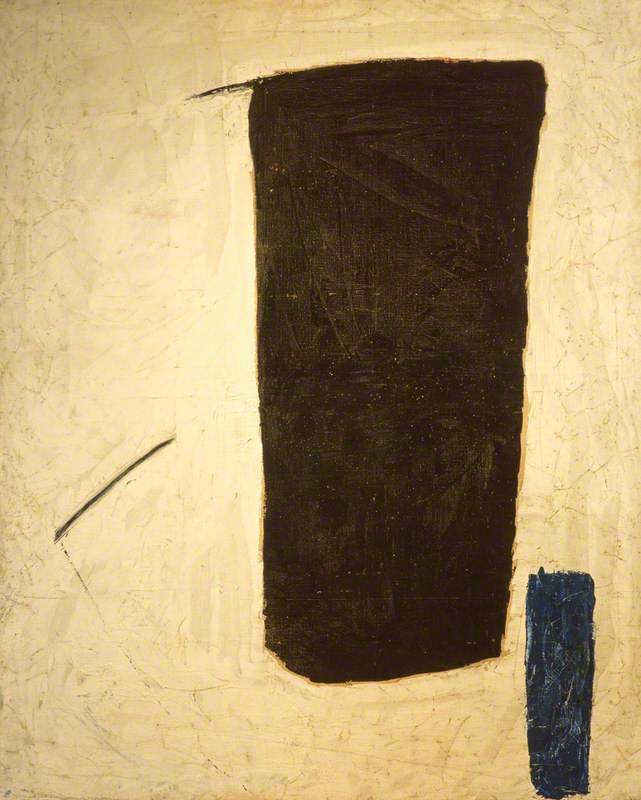 © estate of Roger Hilton. All rights reserved, DACS 2022. Photo credit: National Galleries of Scotland
(b Northwood, Middlesex [now in Greater London], 23 Mar. 1911; d Botallack Moor, nr. St Just, Cornwall, 23 Feb. 1975). British painter of German extraction (Aby Warburg was his father's cousin). He trained at the Slade School, and in the 1930s also studied in Paris under Bissière. In 1950 he began painting abstracts; initially he was influenced by developments in Paris (to which he regularly returned), but on a visit to the Netherlands in 1953 he was inspired more by Mondrian. From 1955 he reintroduced a sense of a shallow pictorial space, and from 1956, when he began making visits to St Ives (see St Ives School), there are suggestions of beaches, boats, rocks, and water in his work. In 1961 he returned to overt figuration with a series of exuberant, jokey female nudes.
Read more
These dismayed some of his admirers, who regarded him as a standard-bearer for abstraction, but they are now among his most popular works (Oi yoi yoi, 1963, Tate, London). For the last few years of his life he was bedridden with a muscular disease, but his ill health was belied in the series of colourful, good-humoured gouaches he did in this period.
Text source: The Oxford Dictionary of Art and Artists (Oxford University Press)