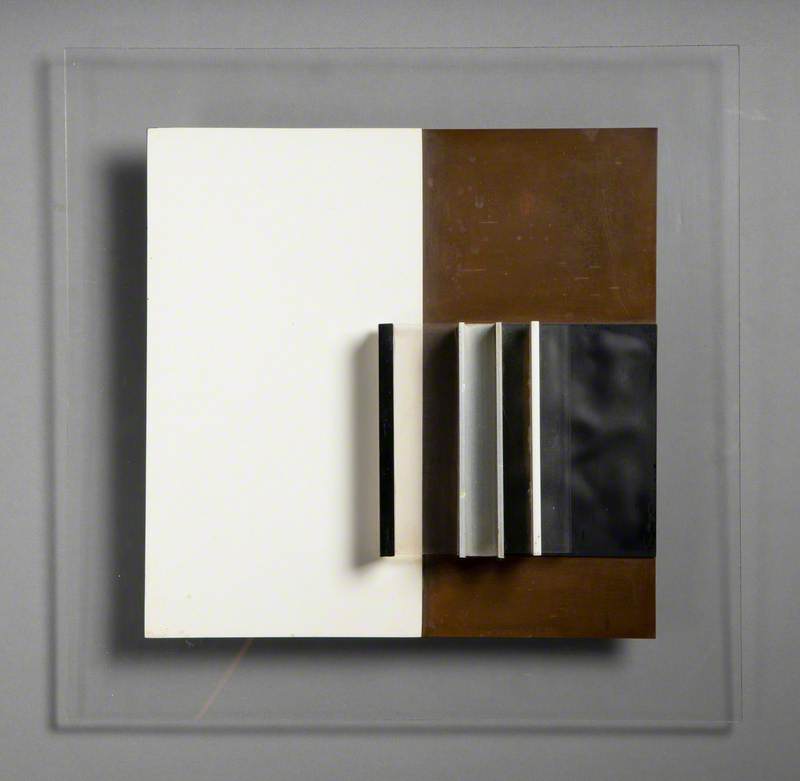 © Anthony Hill. All rights reserved, DACS 2023. Photo credit: Pallant House Gallery, Chichester
British abstract painter and maker of reliefs, born in London. He studied at *St Martin's School of Art, 1947–9, and at the Central School of Art and Design, 1949–51. After a period of experimentation with various styles and modes of expression in the early 1950s, he adopted a highly disciplined form of abstract painting. Writing in 1954 (Lawrence *Alloway, Nine Abstract Artists) he claimed a distinction between genuine abstract art and those works which 'have no coherent thematic or aesthetic and must be judged as representing obscure personal styles of artists in various degrees of conflict with figuration or mimeticism'. Genuine 'abstract' art had two main trends, 'architectonic', as represented by *Mondrian, and 'mathematical', as represented by *Gabo.
Read more
Such art was 'distinctly rational and determinist in contrast to the subjectivist limbo in which the greater part of art is today submerged'. In 1954 he made his first relief and he abandoned painting two years later. With Kenneth and Mary *Martin he became recognized as one of the leaders of the *Constructivist movement in Britain. In 1956 he contributed reconstructions of historic abstract works such as those of *Rodchenko to 'This is Tomorrow' at the Whitechapel Gallery. His reliefs often use industrial materials such as plastic and mass-produced aluminium sections arranged in accordance with mathematical formulae (he was honorary research fellow in the mathematics department at University College London in 1971–3). He has published several articles on art and mathematics, and in 1968 he edited an anthology DATA: Directions in Art, Theory and Aesthetics, which was described by the critic Stephen Bann as 'by far the most illuminating and comprehensive recent survey of attitudes towards the constructive tradition'. He has also made *Dada-influenced reliefs under the pseudonym Achill Redo.
Text source: A Dictionary of Modern and Contemporary Art (Oxford University Press)