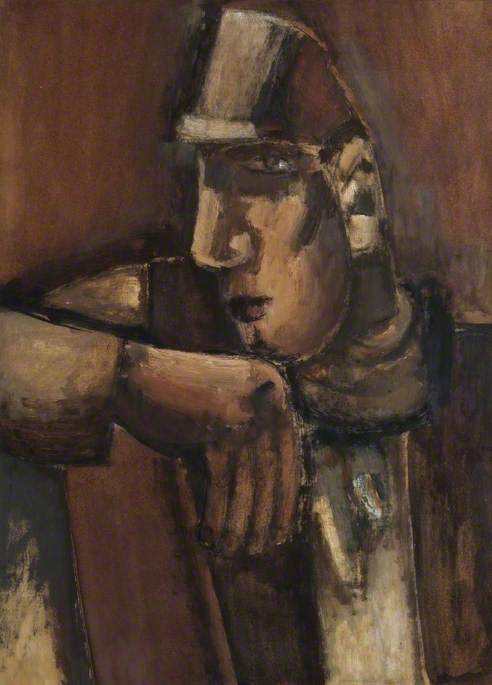 © estate of Josef Herman. All rights reserved, DACS 2022. Photo credit: Rugby Art Gallery and Museum Art Collections
Polish-born painter who became a British citizen in 1948. He was born in Warsaw, the son of a Jewish cobbler, and studied at the Warsaw School of Art, 1930–31. In 1938 he moved to Brussels, then in 1940 to Glasgow, where he became a friend of another Polish refugee, Jankel *Adler. He moved to London in 1943, then from 1944 to 1953 lived in the Welsh mining village of Ystradgynlais. Ill health forced him to seek a drier climate and subsequently he lived in London and Suffolk. Herman is best known for his sombre pictures of Welsh miners, with whom he felt a strong affinity. He often showed their black figures silhouetted against the sun: 'This image of the miners on the bridge against a glowing sky mystified me for years with its mixture of sadness and grandeur.
Read more
' Michael Jacobs and Malcolm Warner write that 'The harsh realities of life here provided a subject perfectly attuned to his expressionist style of painting. He feels that he has achieved a special empathy with the local inhabitants, and knew that he was accepted by them as soon as they referred to him by the affectionate nickname "Joe bach" (little Joe). Much of his time at Ystradgynlais was spent underground observing the life of the miners' (The Phaidon Companion to Art and Artists in the British Isles, 1980). Herman made a considerable reputation with his mining scenes and was commissioned to paint a mural for the Festival of Britain in 1951 (Miners, Glynn Vivian Art Gallery and Museum, Swansea). In subsequent paintings he depicted the life of other working people he had seen on his extensive travels, which are documented in his book Related Twilights: Notes from an Artist's Diary (1975). He made an impressive collection of African sculpture and his figure style was to some extent based on it.
Text source: A Dictionary of Modern and Contemporary Art (Oxford University Press)