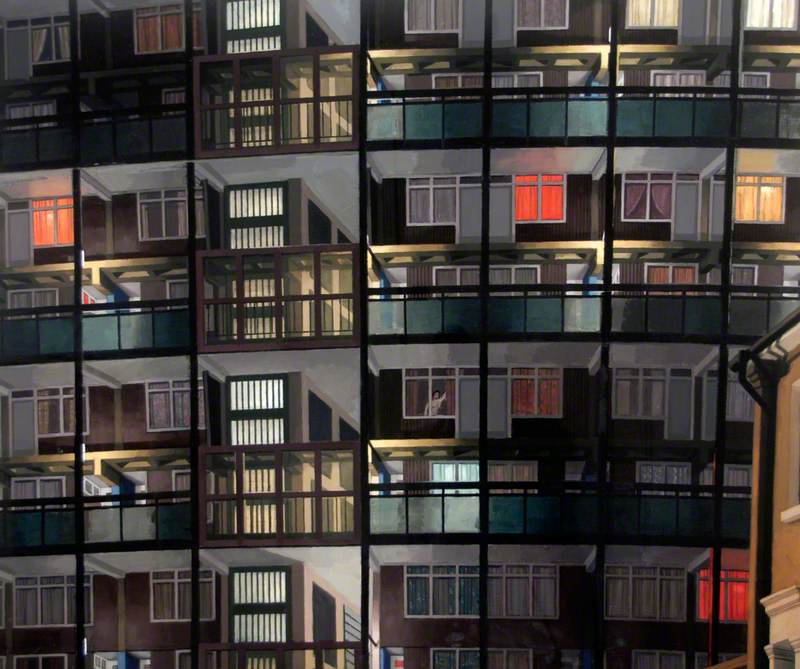 © the artist/courtesy Flowers Gallery, London and New York. Photo credit: Middlesbrough Institute of Modern Art, mima
Painter, collagist and teacher, born in Surrey. He studied at Camberwell School of Arts and Crafts and Slade School of Fine Art, 1955–61. In the 1960s he participated in group shows at Young Contemporaries, LG and Piccadilly Gallery, then had first solo show at Serpentine Gallery in 1971. In 1972 showed solo with Angela Flowers Gallery, at which he was to continue exhibiting. Hepher also taught part-time in London.
Read more
In the 1970s Hepher participated in Germany and France in several shows devoted to realist or Hyper-Realist painting, and became noted for his minute depictions of suburban domestic house fronts, with their bow-windows, stained glass fanlights and privet hedges. In 1974, the year he won 1st Prize, 1st International Tokyo Biennale, Hepher had retrospective exhibitions at Mappin Art Gallery, Sheffield, and Whitechapel Art Gallery, with one at the Museum of London, 1996, entitled Streets in the Sky, featuring graffiti-marked south London council tower blocks. Hepher lived nearby in Camberwell. Tate Gallery, Victoria & Albert Museum; Government Art Collection, Arts Council, Sheffield City Art Galleries, British Council and Boysmans Museum in Rotterdam are among public collections holding his work. Hepher was senior lecturer in painting at Chelsea School of Art, 1981–90, then became professor of fine art at University College, London, and head of painting, Slade School of Fine Art, professor emeritus in 2001.
Text source: 'Artists in Britain Since 1945' by David Buckman (Art Dictionaries Ltd, part of Sansom & Company)