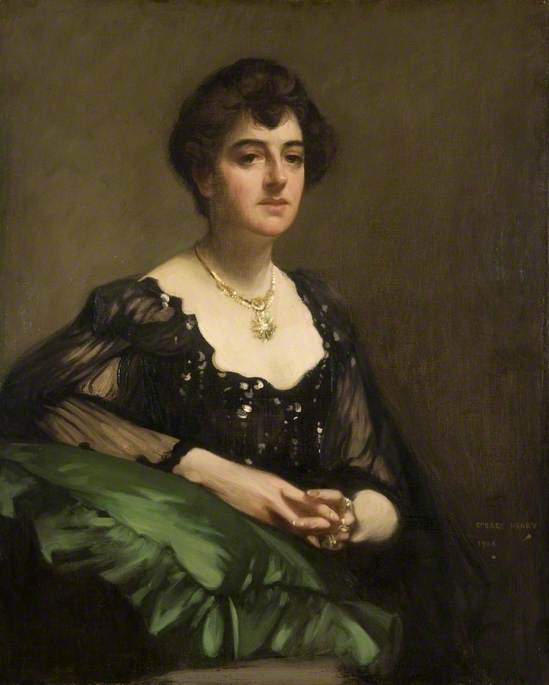 Photo credit: Glasgow Life Museums
A Scottish painter born at Irvine, on the North Ayrshire coast, on 14th March 1858, as only child of William Hendry (b.1822/1823) and his wife Anne Cowan Fisher (1832–1909), the latter born at Sorn, East Ayrshire, where they had married in March 1857. After his father died and was buried at Kilbirnie, Ayrshire, in October 1859, he and his mother lived with her brother James (c.1845–1913) at 4 Binnie Place, Calton, Glasgow. He continued to do so until moving to London in his mid-forties, his early Glasgow exhibiting addresses being those of his changing studios there.
Read more
From early adulthood he used 'Henry' as his surname, perhaps to avoid family confusions, since there were three other contemporary 'Hendry' Scottish painters including a 'William Hendry' who exhibited in Glasgow in 1884.

Henry began as a draughtsman doing illustrations for trade magazines. He trained as a painter at Glasgow School of Art about 1882, which is likely to have been the year he finished. There he met '[James] Guthrie, [Joseph] Crawhall and [Edward Arthur] Walton, with whom he worked at Brig O'Turk and Roseneath, and later at Eyemouth and Cockburnspath' (cf. C. Wood, Dict. of Victorian Painters). He visited Paris several times in the 1880s but did not formally study there, gained further experience in the studio of the landscape painter William York Macgregor (1855–1923), and reportedly derived great benefit from early nature sketching round Kirkcudbright, Dumfriesshire.

He first exhibited in 1882 at the Glasgow Institute and became a significant member of the 'Glasgow Boys', especially for influencing their use of colour into higher decorative key, for which his 'A Galloway Landscape' (1889 and now at Kelvingrove) is a seminal example. He was himself influenced by and a friend of Edward Atkinson Hornel (1864–1933) whose family home from 1866 was also in Kirkcudbright. They met in 1885, after the Edinburgh-trained Hornel returned from studying in Antwerp and himself became one of the 'Glasgow school'. He and Henry for some time shared a studio there and occasionally collaborated, the most notable and earliest example being 'The Druids: bringing home the mistletoe' (exh. 1890 at the Grosvenor Gallery, London, and now also in Glasgow). In 1892 Henry was advised to go abroad for health reasons and in 1893–1894, sponsored by William Burrell and their friend and Glasgow art dealer, Alexander Reid, he and Hornel made an eighteen-month visit to Japan, sailing via Egypt, India and China. The trip had lasting effect on both and although many of Henry's oil paintings done on it were reported lost at sea on the return voyage, Reid organised a successful exhibition of their resultant work in 1895, where Sir William Stirling-Maxwell, one of the founders of the National Trust for Scotland, was a major purchaser.

Apart from landscape and genre subjects Henry also painted portraits, many of which have been more praised for their fine technique, including planes of colour influenced by Japanese prints, rather than for individuality of sitter character. Unnamed female examples have titles such as 'The Blue Gown' (1906, now in Cape Town), 'The Black Scarf' (RA, 1911) and 'The Paisley Shawl' (1924), which suggests his greater ability and interest in compositional patterns of figures, dress and setting.

While he continued to exhibit in Scotland, Henry moved to London in 1903–1904, probably for greater portrait commission and sale opportunities, and wider reputation. His Scottish exhibits of 1904 were sent in from his last Glasgow studio at 2, West Regent Street (where he had been since 1894/1895) but in 1903 he had already taken a London one at 26 Glebe Place, Chelsea, and from 1905 worked there for the rest of his life. Immediate studio neighbours over the years were the sculptor Francis Derwent Wood, George Augustus Holmes, George Washington Lambert and his sculptor son, Maurice, Alfred Egerton Cooper and Charles Cundall. Several, including Henry, belonged to the Chelsea Arts Club, though report that he was a founding member is unlikely: it was established in 1891, when he was still in Scotland.

He never married and his London domestic life was unusual for a successful artist. From at least 1905 he lodged for 22 years at 89 Sydney Street, Chelsea, with Jacob Minty (d.1913), a retired London policeman and former Wiltshire agricultural labourer, and his wife Emily (1857–1932): on her husband's death she continued to run no. 89 as a boarding house. The Mintys had a son, William, and four daughters – Maria (1888–1974), Rachel (d.1929), Hilda (1898–1979) and Simla Rose (1901–1982) – and they appear to have become Henry's surrogate family.

The recurrence of female faces among his figure work suggests one or more of the daughters – all in modest occupations – may have modelled for him. His only so far identified model, however, was Alice Perry (1887–1969) who appears to have sat for him in Scotland from about 1903. He showed a portrait of her at the Glasgow Institute in 1906 (no. 332, 'Miss Alice Perry') and she can be identified in a number of other pictures overlapping his move to London including 'Poinsettia' (1904) and 'The Blue Gown' (1906). Henry presumably retained studies of her and the fact that his friend Hornel habitually used photographs as reference sources suggests he may also have done so. Alice, born at Lenzie, Kirkintilloch (about eight miles north-east of Glasgow) was the eldest of four daughters of David Perry (1856–1939), sometime Provost of Kirkintilloch. In 1916 she married in Glasgow to the Revd Joseph Johnston, formerly minister of Lenzie but at the time on brief leave from service as a wartime army chaplain. She and her husband had moved to Hampstead, London, by 1939 and she died at Bridge, Kent, aged 82 in late 1969. In 1940 her father left six or seven paintings to Glasgow including a Henry 'Portrait' (exh. Glasgow Institute, 1922, no. 84) of a lady in a green dress, but it is not of Alice (and not Jacob Minty's sister Jane, of whom we have photographs).

In 1928 Henry moved to 132 Fulham Road and shortly afterwards Emily Minty (who died there in 1932) and her daughters Maria and Hilda joined him, and Hilda's husband on her marriage in 1933. After 'Mr Henry' – as they seem to have called him – died there aged 85 on 23rd December 1943, the Mintys continued living in the house until 1953. On what basis remains to be found but 1928–1953 suggests Henry may have taken a 25-year lease that was transferred to them.

This long association suggests he was easy to get on with, as do his many professional links. He was a member of the New English Art Club from 1887 and became Associate of the Royal Scottish Academy in 1892. He presumably joined the Glasgow Art Club when studying there, was its President for 1901–1902 and was elected full RSA in 1902, though noted a 'non-resident' in Scotland from 1908. This presumably also attenuated his link with the Royal Scottish Watercolourists of which he was an Associate only from 1900 to 1906. In London he became (according to a Messum gallery exhibition note) 'a high-profile figure in the Chelsea art community … and a recognisably dapper figure at various events, where he was fond of wearing a dress kilt.' He became a member of the Royal Society of Portrait Painters in 1900, was elected ARA in 1907, RA in 1920 and 'Senior RA' in 1934.

Henry's exhibited output was prolific. He showed 104 works at the Glasgow Institute, 1882–1944, (three for sale in 1944 after his death and two lent, one by Sir Thomas Dunlop, a Scottish patron and Lord Provost of Glasgow, who was also his lead executor); 33 at the RSA (1889–1937), 121 at the RA, 20 at the Royal Society of Portrait painters, 15 at the New Gallery, 14 at the Walker Art Gallery exhibitions in Liverpool, and low single figures at the Royal Scottish Watercolourists (4) NEAC (2) and one each at the RBA, ROI, Goupil's and the International Society. Before the First World War he was charging high prices for portraits but changing fashion and economic conditions may later have affected his portrait practice, when he appears to have refocused on landscape subjects, notably in Sussex. His 13-year progress from ARA to RA was also unusually slow, younger artists achieving both within that span, and – very unusually – not even his Diploma work ('Brambles', 1921) featured in Royal Academy Illustrated between 1916 and 1926. He also ceased exhibiting new work at the RSA in 1923, the last four entries there to 1937 (and four earlier) being loans of older ones from patrons. These included Sir Thomas Dunlop who lent 'A Galloway Landscape' in 1936 before giving it to Kelvingrove in 1940, and 'Silk and Ermine' (1909) in 1937, 1944 and 1949.

It was perhaps Dunlop who arranged for Henry's Scottish funeral and burial (or of his ashes) in a family grave in the Cathcart Cemetery, East Renfrewshire, and for 'George Henry, RA, RSA' to be added to the gravestone. Henry presumably erected this, primarily for his mother and using her maiden name, since it also calls his father 'Henry', not 'Hendry'. He may have done so after 1913 since its original inscription is consistent and includes his maternal uncle, James Fisher, who died in that year. A memorial service for Henry was also held in Chelsea and a good oil portrait of him (c.1940–1943) by Thomas Cantrell Dugdale was purchased by the Scottish National Portrait Gallery in 1961 (PG1984). The vendor was Dugdale's widow Amy ('A.K. Browning', 1881–1978, herself a painter), which suggests Dugdale recorded Henry this way as a friend.
Text source: Art Detective