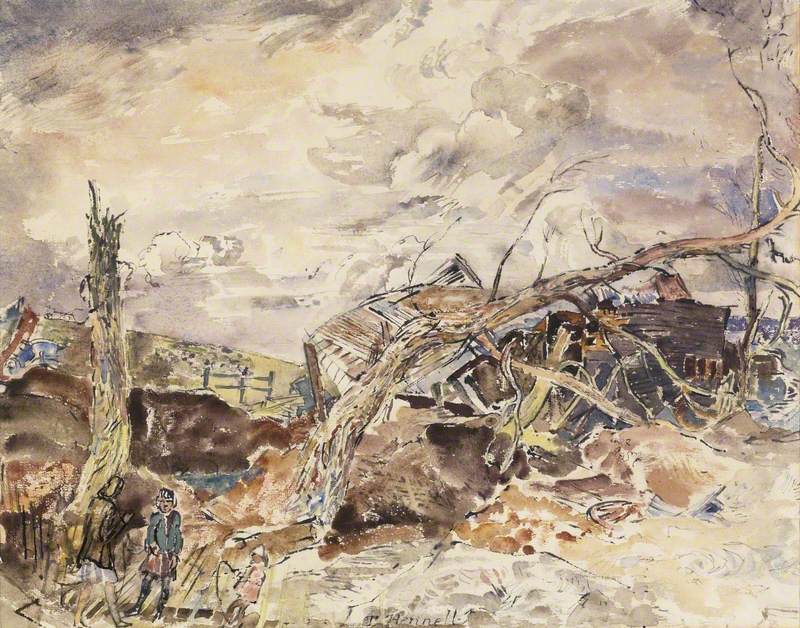 Photo credit: Fry Art Gallery
Watercolour painter, draughtsman, writer and poet. Born at Ridley, Kent, studied at Regent Street Polytechnic for several years in the early 1920s, then qualified as a teacher with Marion Richardson. Taught art for several years. Began to research his first book, Change in the Farm, in Britain, and Ireland, mainly by bicycle. Was a meticulous recorder, in words and pictures, of vanishing country crafts and ways. In 1931 became friendly with Edward Bawden, Eric Ravilious and other artists based in Great Bardfield, Essex. From 1932–5 was treated for psychiatric illness, which he wrote about in The Witnesses. During World War II Hennell was an Official War Artist in Europe and the Far East, dying in mysterious circumstances in Java. The Imperial War Museum holds a large collection of his pictures, which are in many other public galleries.
Read more
Hennell was a keen student of English watercolour painting and wrote well on it. Although not a great natural draughtsman, he improved his technique to become a fine atmospheric and distinctive watercolourist. Victoria Art Gallery, Bath, held a survey show in 1995.
Text source: 'Artists in Britain Since 1945' by David Buckman (Art Dictionaries Ltd, part of Sansom & Company)