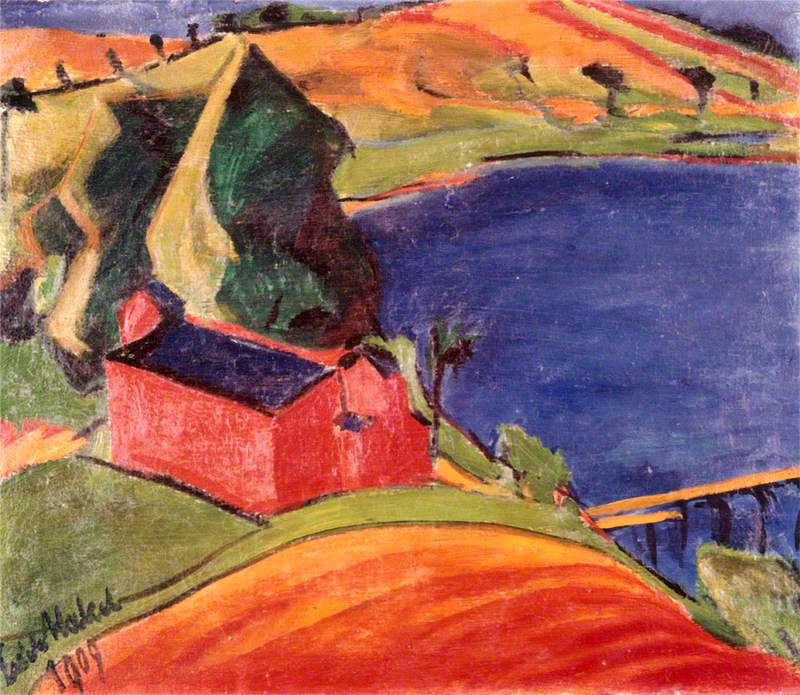 © DACS 2021. Photo credit: Amgueddfa Cymru – National Museum Wales
(b Döbeln, nr. Dresden, 31 July 1883; d Radolfzell am Bodensee, 27 Jan. 1970). German painter and graphic artist, one of the founders of Die Brücke. His work was somewhat more lyrical than that of the other members of the group and he showed a special concern for depicting sickness and inner anguish. His landscapes, too, sometimes have a decorative quality foreign to most German Expressionism. During the First World War, when he worked as a medical orderly in Flanders, his work became more melancholic and tragic.
Read more
After the war, however, his painting lost much of its intensity, with pastel tones replacing the bold, sometimes harsh colours he had earlier used. In 1937 his work was declared degenerate by the Nazis and in 1944 his Berlin studio was destroyed in an air raid. Heckel then moved to Hemmenhofen on Lake Constance. From 1949 until his retirement in 1955 he taught at the Karlsruhe Academy. Apart from Kirchner, Heckel was the most prolific printmaker among the Brücke artists, producing more than 400 woodcuts, about 400 lithographs, and nearly 200 etchings, mainly in the period 1903–23.
Text source: The Oxford Dictionary of Art and Artists (Oxford University Press)