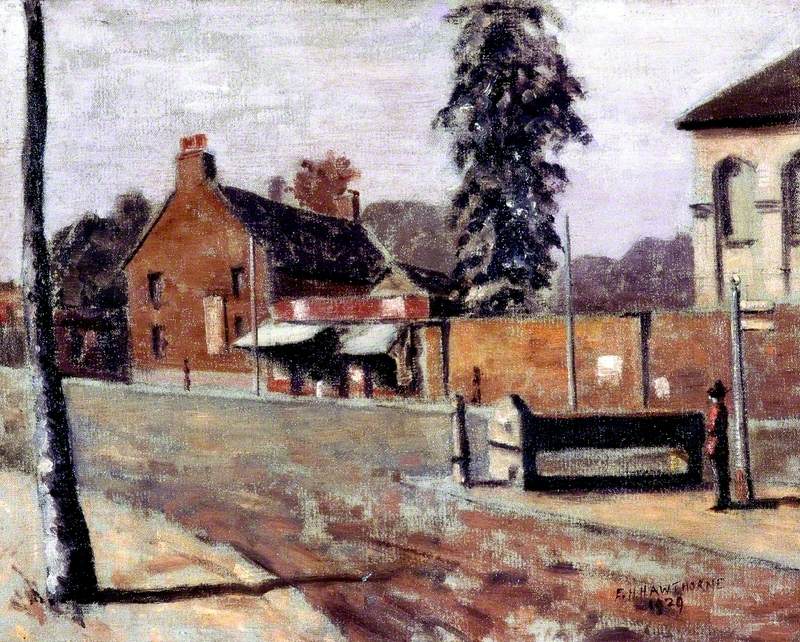 © the artist's estate. Photo credit: Laing Art Gallery
Painter, printmaker and teacher, born and lived in London, his wife the painter Lilian Hawthorn, his uncle the part-time artist Henry Silk. Like them he showed with the East London Group at Lefevre Gallery, having studied from 1927 with John Cooper at the Bow and Bromley Evening Institute. Through the Group Hawthorne (his full name was Elwin Henry Hawthorn; the added e was a mistake in a review which Lefevre chose to retain; some very early work is signed Elwin H Hawthorn or E H H) met Walter Sickert, whose studio assistant he was for three years. He was eventually under contract to Reid & Lefevre and had two solo exhibitions with them, 1934 and 1938. In World War II Hawthorne served with ARP (Air-raid Precautions) and St John's Ambulance Brigade, witnessing harrowing scenes which affected this sensitive man deeply.
Read more
Then served in the Army, after which he worked for Plessey's, handling wages. Died on his way to one of several evening classes he taught. Pictures by Hawthorne of pre-World War II London are of deceptively simple design, in which he captures the atmosphere of almost-deserted streets with a near-surreal style. Among collectors were the Duke of Rutland, Earl of Sandwich, Sir Edward Marsh, Charles Laughton and J B Priestley. Manchester City Art Gallery holds Hawthorne's Church near Blackheath, presented by Contemporary Art Society.
Text source: 'Artists in Britain Since 1945' by David Buckman (Art Dictionaries Ltd, part of Sansom & Company)