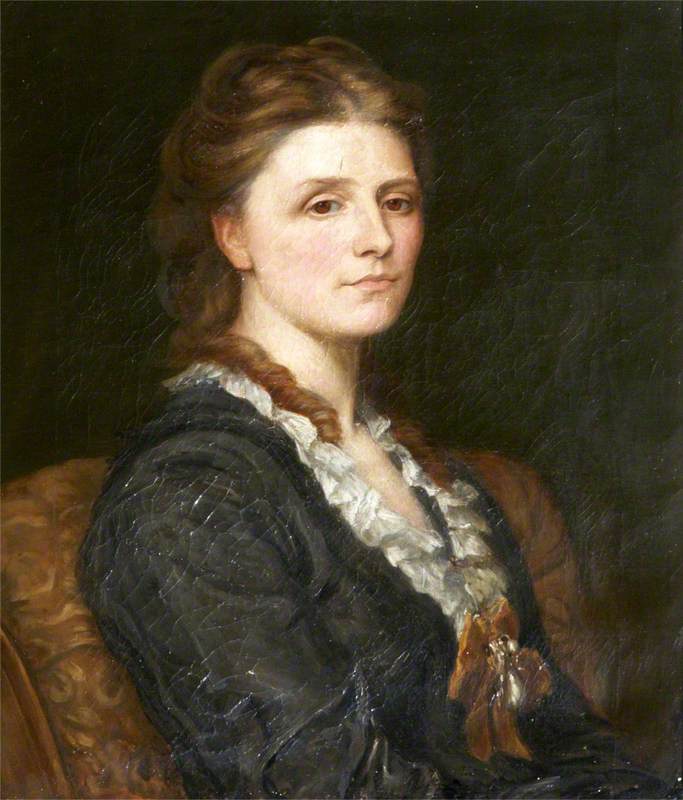 Jane Elizabeth Hawkins appears to have been a painter of oil portraits and figure subjects (including in watercolour) but more evidently a portrait copyist. That she exhibited one watercolour Portrait of a Lady at the Royal Academy in 1879 shows she painted them, but other originals need to be found to establish to what extent. Of seven by her in UK public holdings four are copies after Sir Francis Grant, one after James Rannie Swinton, and one an oil after a pastel portrait by Eden Upton Eddis. Only one, of Laura Russell (Lady Arthur Russell), in Tavistock Town Hall, was not previously listed as a copy but is after a portrait that G. F. Watts painted in 1872 and showed at the RA in 1874. (Russell, née de Peyronnet, 1836–1910, wife of the Liberal politician Lord Arthur Russell, was herself an amateur portraitist/copyist, mainly of members of the Russell family, and presented a number to Tavistock, for which her husband was MP.)
Read more
Jane was eldest child of William John Hawkins (b.c.1826), a carver and gilder, and son of a Southwark coal merchant (also William John) born at Portsea, Hampshire. Her mother, Jemima Nice (b.c.1821) was daughter of Esau Nice, a Colchester farmer, and appears to have been illiterate. Both were living in Shoe Lane, Farringdon, when they married at St Andrew's, Holburn, on 28th December 1846: Jane was born seven months later, on 13th July 1847, by which time they had moved to 32 Regent Street (now Stayton Street), Chelsea, where she was baptised at St Luke's on 8th August. Her sister was born on 12th November 1849 at 11 Prince's Street, Chelsea, and baptised Louisa Lizzy at St Luke's on 9th December, but she appears under several variants of those names in later censuses. Their brother, William John, was born in 1852: he appears as a 'Commercial Clerk' in the 1881 census and a 'Stud Groom' in that of 1891.

By the time of the 1861 census the family were at 2 Queen Street, Chelsea, and the children's father had become a greengrocer. In 1871 Mr Hawkins, 'Retired Tradesman', his wife and son were at 3 Flood Street, but Jane and 'Lizzi L.' [sic] were living with their paternal grandparents at 37 Smith's Terrace, Chelsea. This is 'Smith's Street' when given as Jane's first exhibiting address for the 1871/2 Society of British Artists' exhibition, where she showed three watercolours (A Neapolitan at 10 guineas, A Magdalene, 5 gns, and Namourna, 7 gns). She was at 35 Markham Square, Chelsea, in 1873 and 5 Walpole Street, Chelsea, when she last exhibited at the SBA in 1874/5: everything she showed there had been in watercolour.

The 1881 census notes her as head of household at 5 Walpole Street, with her sister ('Louisa L.'). Their parents were present as visitors on census night, their retired father noted as having 'income derived from property'. On 7th August 1885 their mother, Jemima, aged 63, was buried at Old Brompton cemetery from an address in Battersea. The 1891 census shows the sisters – both as 'Artist/ Sculp' – still at Walpole Street, with two female servants, one a cook. ('Sculp' was only a general census classification term in such cases.)

As 'Louise Hawkins', Jane's sister showed two landscape watercolours at the SBA in 1880 and 1881, and in summer 1892 held an exhibition at home in Walpole Street of 'paintings, studies and sketches' made on a cruise she had taken up the Norwegian coast (review in The Queen, 4th June).

Only Jane appears in the Chelsea electoral register for 1898, by then at 10 Walpole Street (which was a move, not street renumbering), and she was still alive and noted as an artist at the 1911 census when either living or staying at a hotel in Brighton.

Her sister was living at 103 Upland Road, Camberwell, in 1901 and was probably the Louise Lizzie Hawkins who died aged 81 on 24th February 1931 at 45, Lansdowne Street, Hove, leaving estate of just over £1,957 at probate.

The overall picture is of two unmarried sisters of modest background and education who lived together well into middle age. Their father's apparent success as a property-owning tradesman presumably helped them start managing to support themselves as artists. Nothing is known of Jane's training, but the technical quality of her work suggests she had some. Louise, who appears to have lived longer, was probably main beneficial heir to general family estate.

Summarised from Art UK's Art Detective discussion 'Who painted this portrait of John Robert Kenyon (1807–1880)?', mainly based on official record information supplied by Kieran Owens. Death date provisionally amended, August 2022, with thanks to Osmund Bullock.
Text source: Art Detective