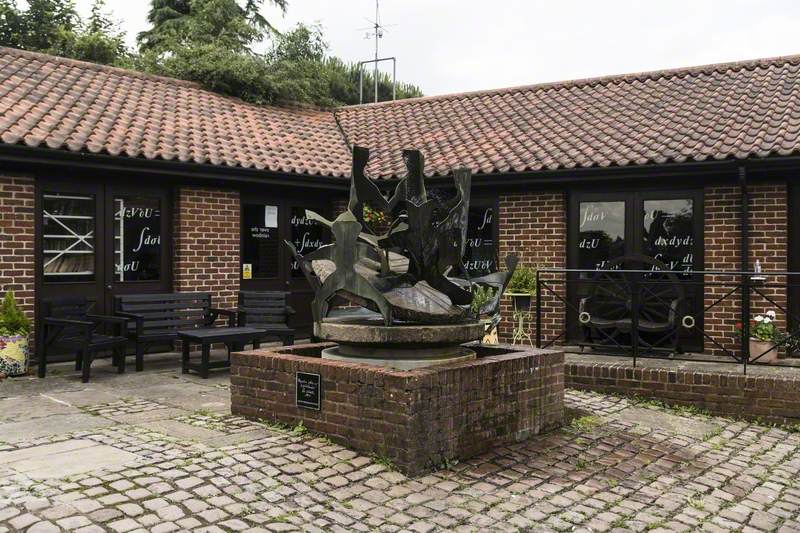 © the artist. Photo credit: Mervyn Mitchell / Art UK
Sculptor and teacher who worked in a variety of media, born in Gravesend, Kent. He studied sculpture at Gravesend School of Art, 1961–3, then Edinburgh College of Art, 1963–6. Involved in multiples, film and performance for several years from 1973, then concentrated on installation. In 1976, Haselden was included in the big British Council exhibition English Art Today 1960–76 at the Palazzo Reale, Milan, Italy. He was then teaching part-time in the fine art department of Reading University and the Slade School of Fine Art and his films included Railway Trolley and Film, 1973, Film Structures and MSV Mower, and Lady Dog, both 1975. His group appearances included New Light on Sculpture at Tate Gallery, Liverpool, 1990, and Arts Council touring show Recent British Sculpture, 1993–4.
Read more
His solo shows included Seaward at Serpentine Gallery, 1977. Whitechapel Art Gallery, 1988, Golden Crescent at South London Art Gallery, 1993, and Mobile Home, 2002. Lived in London.
Text source: 'Artists in Britain Since 1945' by David Buckman (Art Dictionaries Ltd, part of Sansom & Company)