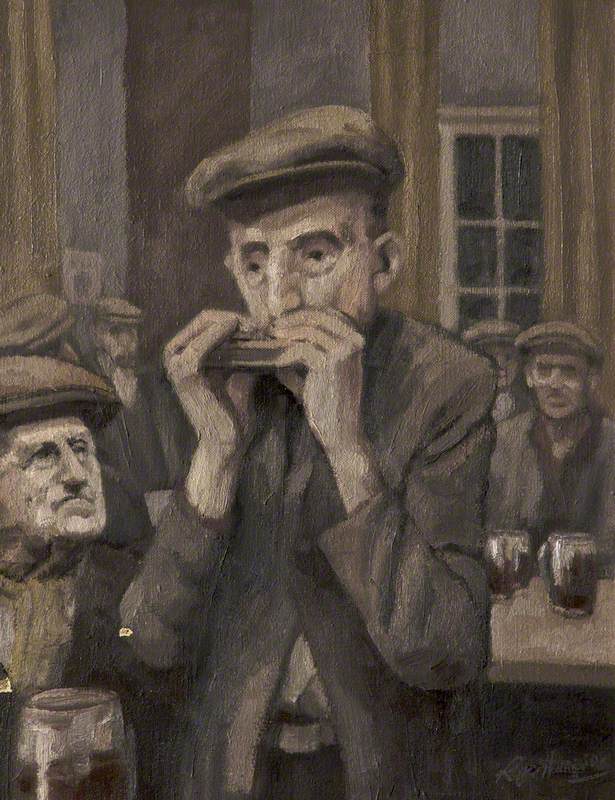 © the artist's estate. Photo credit: Salford Museum & Art Gallery
Painter, printmaker and teacher, born in Tyldesley, Lancashire. Hampson was noted for his straightforward depictions of southeast Lancashire, mines and miners. He studied at Manchester College of Art, 1946–51, with Paul Keen and Norman Jaques. Hampson began teaching at Bolton Secondary Technical School, 1951–3; lectured at Hereford School of Art, 1953–4; was a graphic designer, 1954–61; was at Bolton College of Art & Design, eventually as principal, 1961–7; then was principal of Loughborough College of Art & Design, 1978–86. He was a member of MAFA, being its president, 1969–76, and was a fellow of the Chartered Society of Designers. Took part in over 100 group shows and had some 30 solo exhibitions, including Tib Lane Gallery, Manchester, from 1963.
Read more
Lived finally in Hereford. Lancashire Mining Museum, Salford, held a memorial show and The Gallery, Manchester's Art House, a retrospective, both in 1996.
Text source: 'Artists in Britain Since 1945' by David Buckman (Art Dictionaries Ltd, part of Sansom & Company)