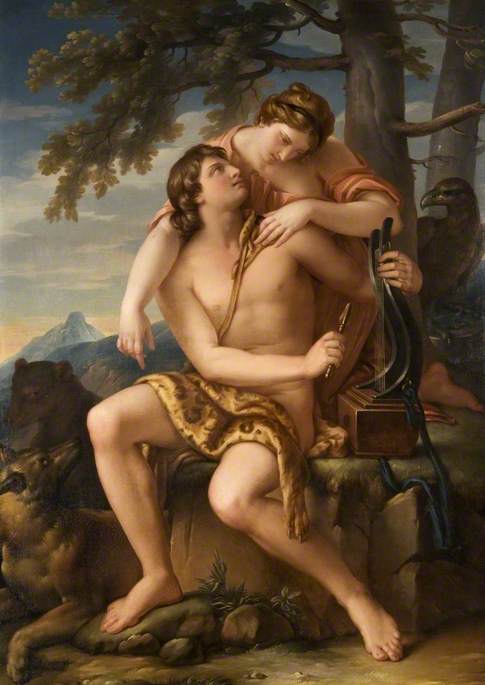 Photo credit: Glasgow Museums
(b Murdieston House, Lanarkshire, 1723; d Rome, 4 Jan. 1798). Scottish painter, archaeologist, and picture-dealer. He visited Italy in 1748–50 and in 1756 settled permanently in Rome (although he made visits to Britain), becoming a leading member of the Neoclassical circle of Mengs and Winckelmann. As an artist he concentrated on history paintings, and he is one of the few British artists of his time (with Barry and the Anglo-Americans Copley and West) to make a significant contribution in this field. He was particularly drawn to Homeric subjects, in his treatment of which he was influenced by Poussin as well as by the antique (Achilles Lamenting the Death of Patroclus, 1763, NG, Edinburgh). His pictures in this vein were never very numerous and today are generally regarded as ponderous, but they became well known through engravings, and greatly influenced the development of the Neoclassical style amongst both his contemporaries and the younger generation, including J.
Read more
-L. David. His occasional portraits generally appeal more to modern taste (The 8th Duke of Hamilton with Dr John Moore and Ensign John Moore, 1775–7, NPG, Edinburgh). Hamilton met and encouraged virtually all the British artists who visited Rome in the second half of the 18th century, but he remained better known on the Continent than in Britain, where his name was more familiar for his lucrative activities in selling Old Masters and classical antiquities. From about 1769 he directed archaeological excavations himself, notably at Hadrian's Villa at Tivoli.Gavin Hamilton is not to be confused with Gawen Hamilton (c.1697–1737), a minor portrait painter remembered for his Conversation of Virtuosis at the Kings Armes (1735, NPG, London), which shows himself and several other artists of the day, including William Kent and Michael Rysbrack.
Text source: The Oxford Dictionary of Art and Artists (Oxford University Press)