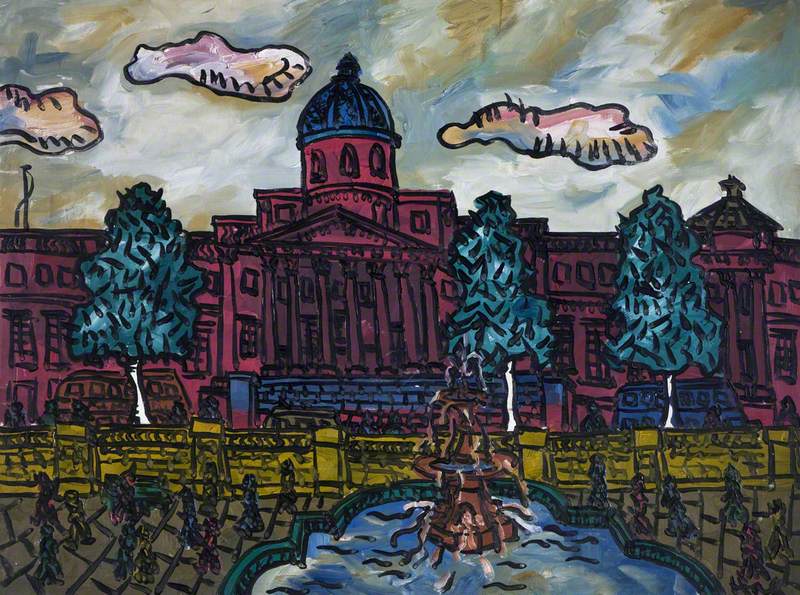 Photo credit: National Museums NI
Painter, draughtsman and designer, born in Surrey, educated at Lancing College, full name Charles Kenneth Hall. For a time Hall studied agriculture, then began designing furniture with an interior design firm in London. In 1934 he showed a portfolio of his pictures to Lucy Wertheim, and although he had not exhibited before she soon gave him a show at Wertheim Gallery, where several important collectors acquired Hall's work. Became involved with Basil Rákóczí and his Society for Creative Psychology, where Hall met Juan Stoll and had the few lessons in art he ever had. In 1935 decided to paint full-time and during the next few years travelled in Europe with Rákóczí and became aware of modern movements such as Surrealism. With advent of war, they settled in west of Ireland, then in 1940 moved to Dublin, reviving the Society and the White Stag Group, which they had begun in London, holding group and mixed shows with prominent Irish painters.
Read more
Initially Hall was a landscape painter, but birds and fishes feature strongly in his later work. In 1945 Hall returned to London, showing with Redfern Gallery, but in a depressed state he committed suicide. Hall appears in Lucy Wertheim's book Adventure in Art, 1947, where his strongly outlined work is illustrated. European Modern Art had a retrospective show in 1991 in Dublin. S B Kennedy's catalogue for The White Stag Group exhibition at the Irish Museum of Modern Art, Kilmainham, in 2005, surveyed the artist's life and work.
Text source: 'Artists in Britain Since 1945' by David Buckman (Art Dictionaries Ltd, part of Sansom & Company)