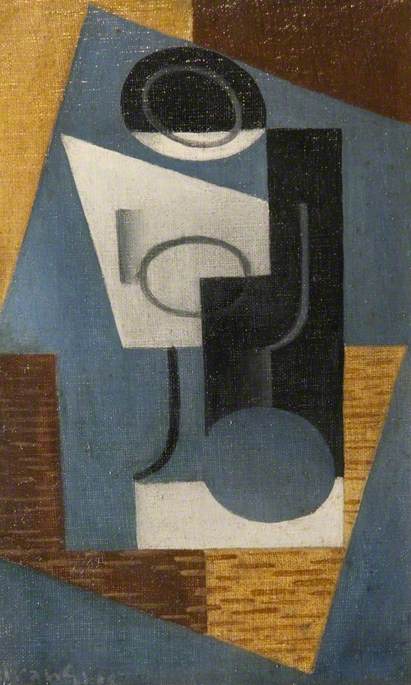 Photo credit: Glasgow Museums
(b Madrid, 23 Mar. 1887; d Boulogne-sur-Seine, nr. Paris, 11 May 1927). Spanish painter, sculptor, illustrator, and designer, active mainly in Paris, where he settled in 1906. In his early years there he earned his living mainly with humorous drawings for various periodicals and he did not begin painting in earnest until 1910. By this time he was strongly influenced by his fellow Spaniard Picasso and his serious painting was almost entirely in the Cubist manner. He made such rapid strides that by 1912 he was becoming recognized as the leading Cubist painter apart from the founders of the movement, Picasso and Braque. His work stood out at the Section d'Or exhibition in that year, attracting the attention of collectors and dealers (Gertrude Stein was among those who bought his paintings and Kahnweiler gave him a contract).
Read more
In 1913–14 he developed a personal version of Synthetic Cubism, in which papier collé played an important part. He said that he conceived of his paintings as 'flat, coloured architecture' and his methods of visual analysis were more systematic than those of Picasso and Braque. His subjects were almost all taken from his immediate surroundings (mainly still lifes, with occasional landscapes and portraits), but he began with the image he had in mind rather than with an object in the external world: 'I try to make concrete that which is abstract…Cézanne turns a bottle into a cylinder, but I make a bottle—a particular bottle—out of a cylinder.' In 1919 Gris had his first major one-man exhibition (at the Galerie de l'Effort Moderne in Paris), but in the following year he suffered a serious attack of pleurisy and from then on his health was poor; for this reason he spent much of his time in the south of France. In this last period of his life his style became more painterly (Violin and Fruit Dish, 1924, Tate, London). Apart from paintings, his work included polychrome sculpture, book illustrations, and set and costume designs for Diaghilev. He wrote a few essays on his aesthetic ideas, and a collection of his letters, edited and translated by Douglas Cooper, was published in 1956. Cooper writes that Gris 'always tempered his science with the workings of his personal sensibility'.
Text source: The Oxford Dictionary of Art and Artists (Oxford University Press)