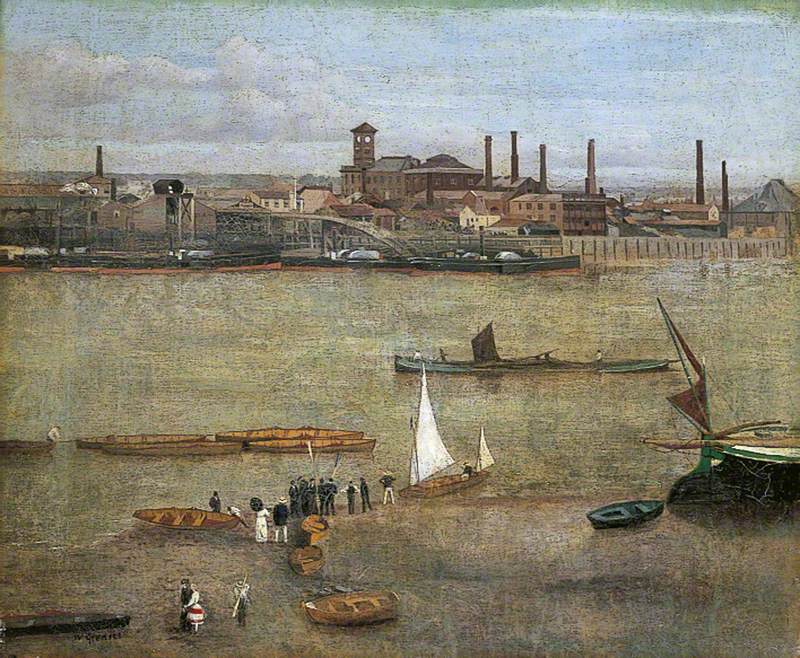 Photo credit: Bridgeman Images
British painter and etcher, mainly of river scenes, landscapes, and portraits. He was the son of a London boatbuilder and waterman who used to ferry J. M. W. Turner across the Thames. In the early 1860s Walter and his brother Henry met *Whistler (a neighbour in Chelsea) and began to row him about the river, which was one of his favourite subjects. In about 1863 they became his unpaid pupils and studio assistants; they hero-worshipped him, and their unsophisticated attempts to imitate his stylish dress and manner caused much amusement. Walter continued to be associated with Whistler until the 1890s. He had painted even before he met Whistler, and his early work is in a detailed, almost *naive style; he soon came completely under the master's influence, however, and in his Self-portrait (c.
Read more
1890, Tate) he is clearly trying to paint just like Whistler as well as to look just like him (on occasion he was in fact mistaken for him). However, he recognized a difference in outlook when it came to river scenes: 'To Mr Whistler a boat is always a tone, to us it was always a boat.' Greaves was poor and unrecognized for most of his life, but he became well known after a group of paintings (discovered in bad condition in a London bookshop in 1910) were exhibited as his work at the Goupil Gallery, London, in 1911 and the Cottier Gallery, New York, in 1912. Many critics hailed him as an unsung genius, but Joseph and Elizabeth Pennell (see Whistler) thought that at least some of the pictures were Whistlers that Greaves had retouched and signed. A great controversy followed (*Sickert was one of those who defended Greaves) and the matter was never entirely resolved, the authorship of some of the pictures still being disputed. In 1922 Greaves was admitted to the Charterhouse, a hostel for poor men, where he lived for the rest of his life.
Text source: A Dictionary of Modern and Contemporary Art (Oxford University Press)