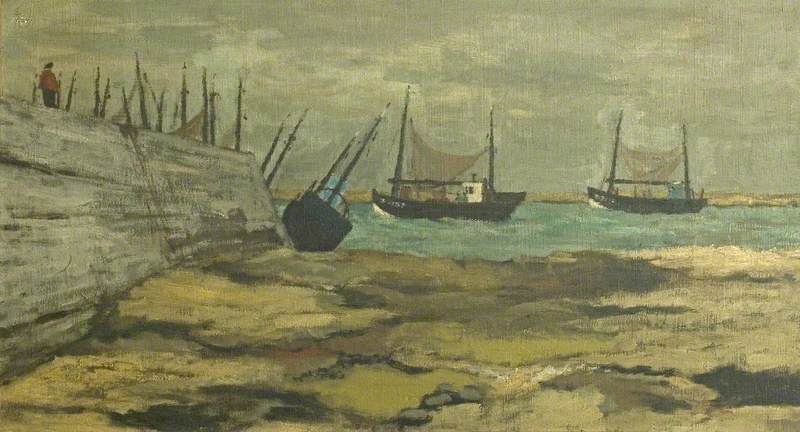 © the artist's estate. Photo credit: Derbyshire & Derby School Library Service
Painter, printmaker, artist in collage and teacher born in London, where he settled. He attended Birmingham School of Art, 1941–3, was four years in the Royal Air Force, then was at Royal College of Art, 1947–50, with a continuation scholarship, 1950–1. From 1955 for many years Grant taught printmaking at Royal College of Art, where he became head of the department in 1970, taking the chair of printmaking in 1984, retiring in 1990. Grant had a keen, painterly sense of colour in pictures that were at first figurative, later abstract. His dexterity as a draughtsman was exhibited in John Huston's film Moulin Rouge, based on the life of Toulouse-Lautrec, made in 1953, where Grant drew on camera. Grant showed RA, AIA, NEAC, at Redfern, Piccadilly and Zwemmer Galleries and was a prizewinner at the Cracow Print Biennale in 1972.
Read more
After the death of his second wife Joan Strickland (who had worked with him at the Royal College), in 1995, Grant lived partly in France, partly in England, showing in both. His mother came from Etaples, in northern France, where he went to school, and he retained the family home there. Grant's work is held by the Victoria & Albert Museum, British provincial and many overseas galleries. There was a memorial show at Art First, 1997.
Text source: 'Artists in Britain Since 1945' by David Buckman (Art Dictionaries Ltd, part of Sansom & Company)