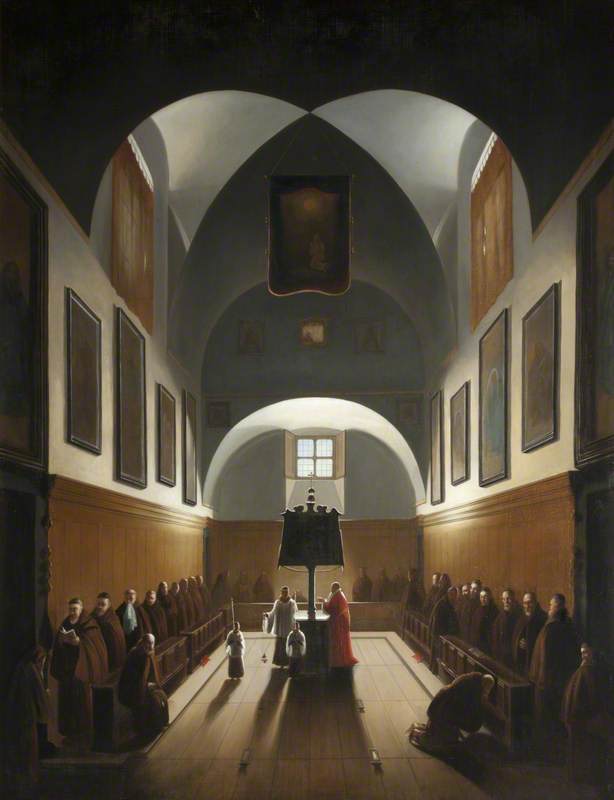 Photo credit: Thirlestane Castle Trust
(b Aix-en-Provence, 7 Dec. 1775; d Malvalat, nr. Aix, 21 Nov. 1849). French painter and museum official. Granet was a pupil of J.-L. David and subsequently spent the years 1802–19 in Rome (he returned to Italy several times thereafter). He made a speciality of sombre tonal effects and changing light in dimly lit interiors, his pictures recalling 17th-century Dutch interiors rather than expressing the Neoclassical tradition in which he was trained. His Choir of the Capuchin Church in Rome (Met. Mus,. New York) was exhibited at the 1819 Salon with such success that he made more than a dozen replicas of it. Granet also painted Italian landscapes, constructed with firm, cubic volumes, in which some critics have seen a foreshadowing of Cézanne.
Read more
In 1826 he became a curator at the Louvre and in 1833 he was appointed curator of the newly established museum at Versailles. During the Revolution of 1848 he retired to his native Aix-en-Provence, where he founded the museum that bears his name. One of the highlights of the collection is a celebrated portrait of Granet by his friend Ingres, painted in Rome in 1807.
Text source: The Oxford Dictionary of Art and Artists (Oxford University Press)