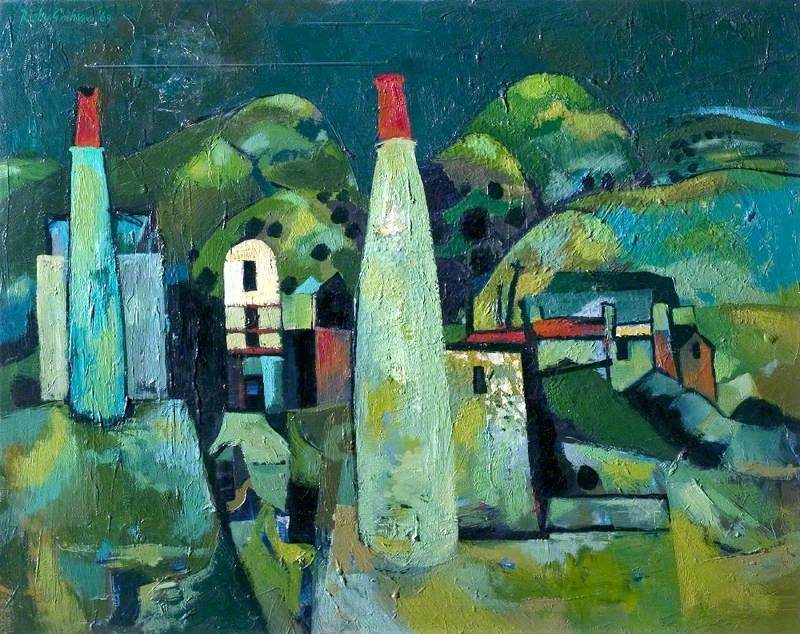 © the artist's estate. Photo credit: Leicestershire County Council Artworks Collection
Painter, printmaker, muralist, illustrator, writer and teacher, born in Stretford, Lancashire. In 1943 his family moved to Leicester, where he settled. Studied mural painting at Leicester College of Art, teachers including D P Carrington and Cyril Satorsky. From 1954 taught for two years in local schools before returning to the College, initially in the bookbinding department, which stimulated his interest in the art of the book. Graham went on to illustrate over 300 books and was strongly associated with the private press movement, including the Brewhouse, Cog, New Broom, Pandora and Saint Bernard's Presses. His most opulent book was Graham's Leicestershire, 1980. It shows Graham's interest in urban blight and industry. He was strongly influenced by the Neo-Romantics, although his colour owed much to German Expressionism.
Read more
Travelled widely in Europe. Murals for local schools included Woodstock Junior, New Parks House Junior and Eyres Monsell Junior, and Leicester Royal Infirmary. Graham had over 40 solo shows. These included retrospectives at Hemel Hempstead Arts Trust, 1977, Goldmark Gallery, Uppingham, 1991, and New Walk Museum, Leicester, 1999. In 2003, Goldmark Gallery released Charles Mapleston's film on Graham, Irish Voyage. University of Wales, Aberystwyth, holds examples.
Text source: 'Artists in Britain Since 1945' by David Buckman (Art Dictionaries Ltd, part of Sansom & Company)