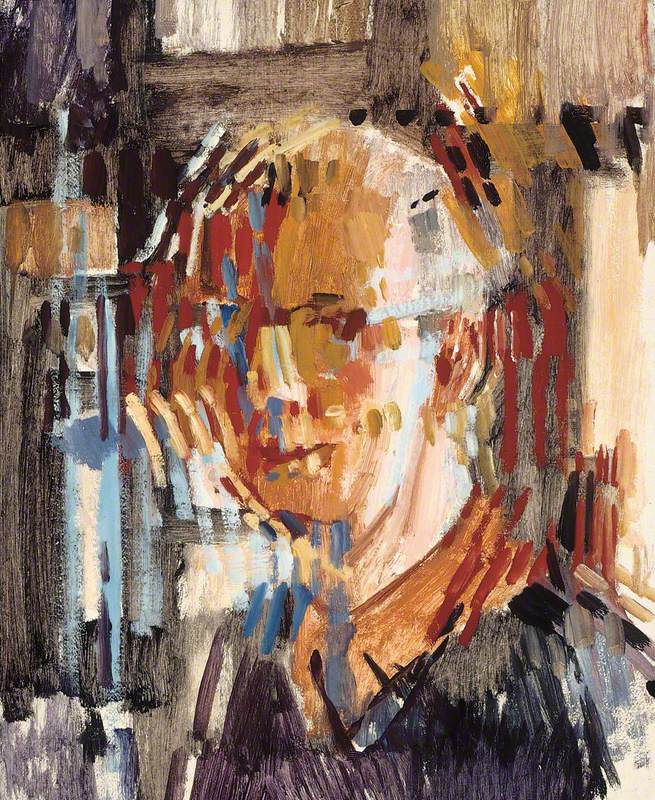 © estate of Sir Lawrence Gowing. Photo credit: Ruth Borchard Collection
British painter, teacher, administrator, and writer on art, born in London. From 1936 to 1938 he studied under *Coldstream, first privately and then at the *Euston Road School, and much of his subsequent work (mainly landscapes, portraits, and still-lifes) was in the sombre Euston Road vein. However, he also painted abstracts, and in 1976 he began producing large pictures in which he traced the outline of his own naked body stretched out on the canvas, the paint being applied by an assistant. He had a prominent career as a teacher, notably as professor of fine art at King's College, Newcastle upon Tyne (later Newcastle University), 1948–58, at Leeds University, 1967–75, and at the *Slade School, 1975–85. From 1965 to 1967 he was deputy director of the Tate Gallery, and he had a long association with the *Arts Council, for which he helped to organize and catalogue several exhibitions, notably the major *Matisse exhibition that inaugurated the Hayward Gallery, London, in 1968 (he also published a book on Matisse in 1979).
Read more
Other major 20th-century artists on whom Gowing wrote in book or catalogue form include *Cézanne (Arts Council exhibition, Edinburgh and London, 1954; 'Cézanne: The Late Works', MoMA, New York, 1977) and Lucian *Freud (monograph, 1982). He was knighted in 1982 and in 1983 an Arts Council retrospective of his work was shown in London, and elsewhere. The accompanying catalogue described Gowing as 'singularly distinguished as a writer, a professor of painting and an adviser to the nation on the arts'.
Text source: A Dictionary of Modern and Contemporary Art (Oxford University Press)