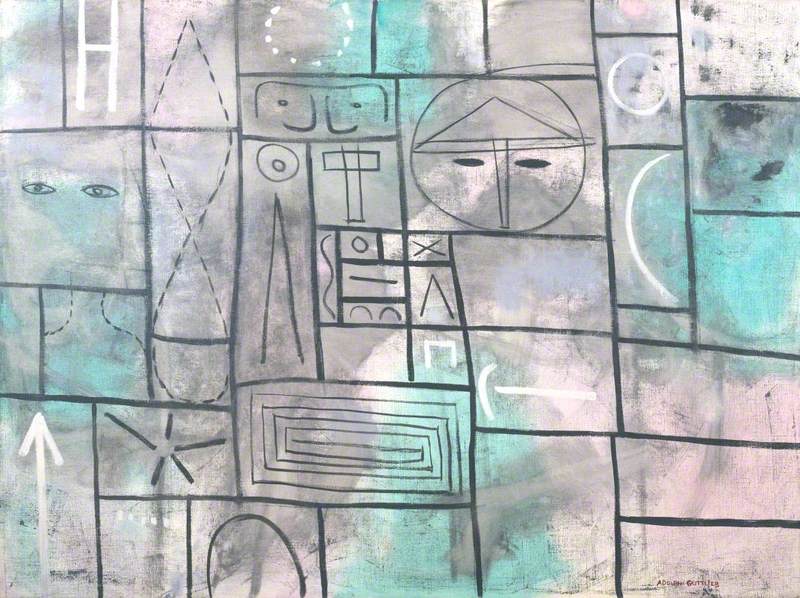 © Adolph and Esther Gottlieb Foundation/DACS, London/VAGA, New York 2021. Photo credit: Tate
(b New York, 14 Mar. 1903; d East Hampton, Long Island, NY, 4 Mar. 1974). American painter, one of the leading Abstract Expressionists. His early work was Expressionist and in 1935 he was one of the founding members of the Expressionist group The Ten. In 1936 he worked for the Federal Art Project. Some of his landscapes of the late 1930s were influenced by Surrealism, and from the early 1940s this tendency was enhanced by contact with expatriate European Surrealists and by an interest in Freudian psychology. His personal style began to emerge in 1941 and from then until the end of his life he worked on three main series: Pictographs (1941–51), Imaginary Landscapes (1951–7, and again in the mid-1960s), and Bursts (1957–74). The Pictographs use a loose grid- or compartment-like arrangement with schematic shapes or symbols suggesting some mythic face; the Imaginary Landscapes feature a zone of astral shapes against a foreground of heavy gestural strokes; and the Bursts, becoming still freer, suggest solar orbs and astral bodies hovering above violently coloured terrestrial explosions.
Read more
Gottlieb also designed stained glass and other works for churches and synagogues, suggesting a religious mood without any specific representation.
Text source: The Oxford Dictionary of Art and Artists (Oxford University Press)