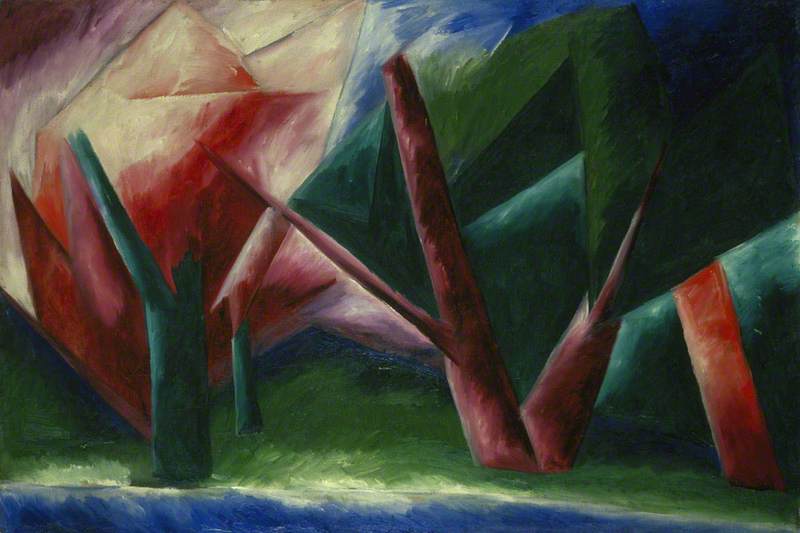 © ADAGP, Paris and DACS, London 2022. Photo credit: National Galleries of Scotland
(b Lodyzhino or Negayevo, Tula province, 4 [16] June or 21 June [3 July] 1881; d Paris, 17 Oct. 1962). Russian-French painter, designer, printmaker, and illustrator, born into a distinguished family (she was related to the poet Pushkin). In Moscow in 1900 she met her fellow student Mikhail Larionov, who became her lifelong companion. In the years leading up to the First World War they were among the most prominent figures in Russian avant-garde art, taking part in and often helping to organize a series of major exhibitions in Moscow. Her early paintings were Impressionist, but from 1906 she began to develop a primitivist style combining her interest in peasant art and icon painting with influences from modern French art, particularly Fauvism and Cubism, to which was later added Futurism.
Read more
By the time of the Target Exhibition of 1913 she was painting in a near-abstract Rayonist style (Cats, 1913, Guggenheim Mus., New York). In 1915 she left Russia with Larionov and after settling in Paris in 1919 she devoted herself mainly to designing settings and costumes for the theatre, particularly Diaghilev's Ballets Russes. Goncharova and Larionov became French citizens in 1938 and were married in 1955. By this time they had been virtually forgotten, but there was a great revival of interest in them in the early 1960s.
Text source: The Oxford Dictionary of Art and Artists (Oxford University Press)