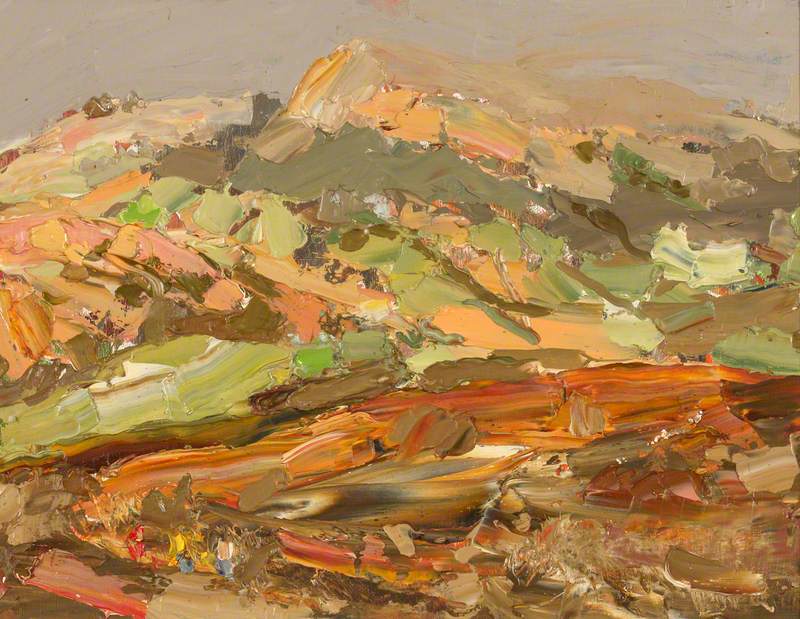 © the artist. Photo credit: y Gaer Museum, Art Gallery & Library
Artist and teacher, born in Hertfordshire and brought up near St Albans, who studied at Hertfordshire College of Art, 1972–3; Canterbury College of Art, 1978–81, under Thomas Watt, graduating with first-class honours; and University of Wales, Cardiff, 1988–9, gaining her art teaching certificate. She lived and worked in Wales from 1983, based in Powys. Between 1982–8 Gibson was a self-employed prop maker for theatre and opera; gained brief school residencies, in 1987; was with Pioneer Arts, Cardiff, 1987–8; then held a number of teaching posts, from 1995 being a part-time art teacher at Rougemont School, Newport. Gibson was a prolific exhibitor, venues including the RA Summer Exhibition, from 1981; Welsh National Opera, from 1984; Austin/Desmond Fine Art, from 1986; Martin Tinney Gallery, Cardiff, from 1992; NEAC and ROI, from 1994; RWA and ROI, from 1996; and Manor House, Cardiff, from 1997.
Read more
Among her solo exhibitions was Landmarks, Brecknock Museum & Art Gallery, Brecon, 2001, which included richly coloured, spontaneous and painterly depictions of landscape. The show also included watercolours and prints, work from Poland, Ireland and studies from national parks. She shared an exhibition at West Wales Arts Centre, Fishguard, in 2003.
Text source: 'Artists in Britain Since 1945' by David Buckman (Art Dictionaries Ltd, part of Sansom & Company)