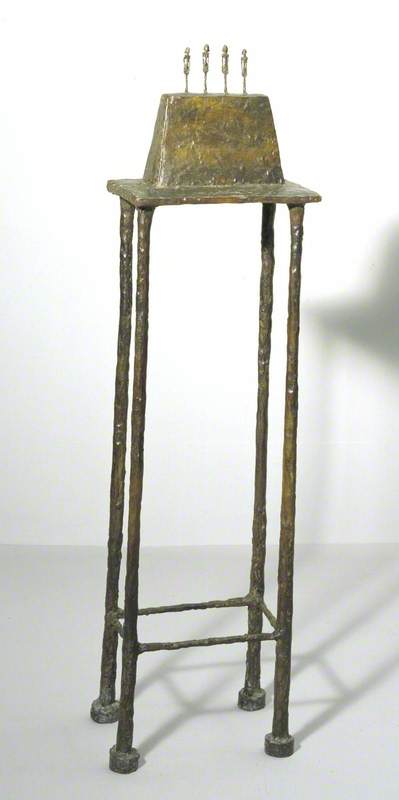 © Succession Alberto Giacometti / DACS 2022. Photo credit: Tate
(b Borgonovo, nr. Stampa, 10 Oct. 1901; d Chur, 11 Jan. 1966). Swiss sculptor and painter, active mainly in Paris. He was the son of Giovanni Giacometti (1868–1933), a painter influenced by Impressionism and Post-Impressionism. After short periods at the École des Arts et Métiers, Geneva, and in Italy, he moved to Paris, where he worked under Bourdelle from 1922 to 1925. He abandoned naturalistic sculpture in 1925, however, and went through a period of restless experimentation. From 1930 to 1935 he participated in the Surrealist movement, developing a highly individual attenuated manner exemplified in the cage-like construction of The Palace at 4 a.m. (1933, MoMA, New York). In 1935, however, he abandoned Surrealism and began to work again from the model.
Read more
From 1941 to 1944 he lived in Geneva to escape the German occupation of France, but he then returned permanently to Paris, and in 1947 he began evolving the style for which he became famous, characterized by human figures of extremely elongated proportions and emaciated, nervous character (Man Pointing, 1947, Tate, London). These fragile, isolated figures often have a suggestion of existentialist tragedy, and Giacometti was indeed a friend of the existentialist philosopher Jean-Paul Sartre, who wrote on his work, notably the introduction to the catalogue of his exhibition at the Pierre Matisse Gallery, New York, in 1948. It was this exhibition that established Giacometti's post-war reputation, and his work soon had widespread influence, which can be seen, for example, in several of the entries for the 'Unknown Political Prisoner' competition of 1953 (see Butler, Reg). He impressed many people not only through the quality of his work, but also by his force of personality, integrity, and devotion to his work. Simone de Beauvoir, Sartre's companion, wrote: 'Success, fame, money—Giacometti was indifferent to them all.' He is generally considered one of the outstandingly original sculptors of the 20th century, and from the late 1950s his reputation as a painter began to increase. Most of his paintings and drawings are portraits of his family and friends: his brother Diego (1902–85), who was a skilled technician and a lifelong assistant, was a favourite model and the subject of dozens of sculptures, paintings, and drawings (in his own right he is notable as the designer of furniture and light fittings for the Musée Picasso in Paris, 1984–5). Their cousin Augusto Giacometti (1877–1947) was a painter, a pioneer of abstract art.
Text source: The Oxford Dictionary of Art and Artists (Oxford University Press)