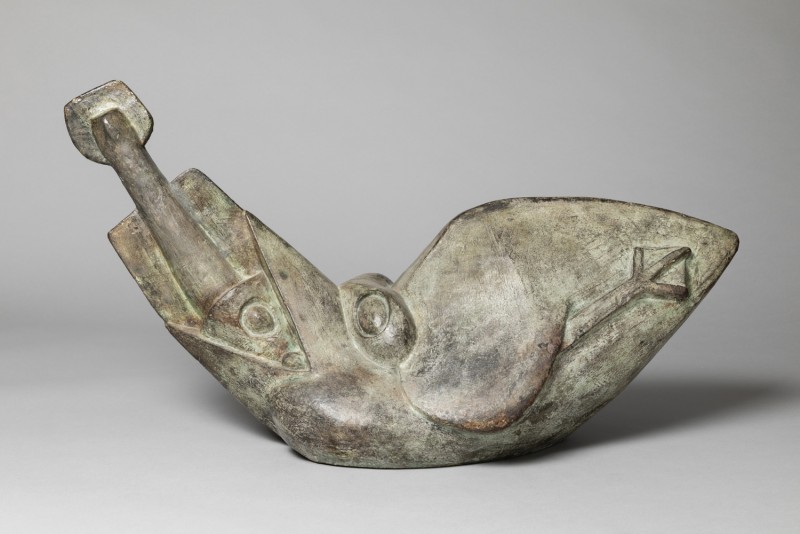 Photo credit: Kettle's Yard, University of Cambridge
(b St-Jean-de-Braye, nr. Orléans, 4 Oct. 1891; d Neuville-St-Vaast, nr. Arras, 5 June 1915). French sculptor and draughtsman, active in England for most of his short career and usually considered part of the history of British rather than French art. In 1910 he took up sculpture in Paris without formal training, and in the same year he met Sophie Brzeska, a Polish woman twenty years his senior, with whom he lived from that time, both of them adopting the hyphenated name. In 1911 they moved to London, which Gaudier had visited briefly in 1906 and 1908, and lived for a while in extreme poverty. He became a friend of Wyndham Lewis and other leading literary and artistic figures, and his work was shown in avant-garde exhibitions, such as the Vorticist exhibition of 1915.
Read more
In 1914 he enlisted in the French army and was killed in action the following year, aged 23. Gaudier developed with astonishing rapidity from a modelling style based on Rodin towards a highly personal manner of carving in which shapes are radically simplified in a manner recalling Brancusi (Red Stone Dancer, c.1913, Tate, London). In England, only Epstein was producing sculpture as stylistically advanced as Gaudier-Brzeska at this time. In his lifetime his work was appreciated by only a small circle, but since his death he has become widely recognized as one of the outstanding sculptors of his generation and has acquired something of a legendary status as an unfulfilled genius. In addition to his sculptures he left behind some splendid animal drawings.
Text source: The Oxford Dictionary of Art and Artists (Oxford University Press)