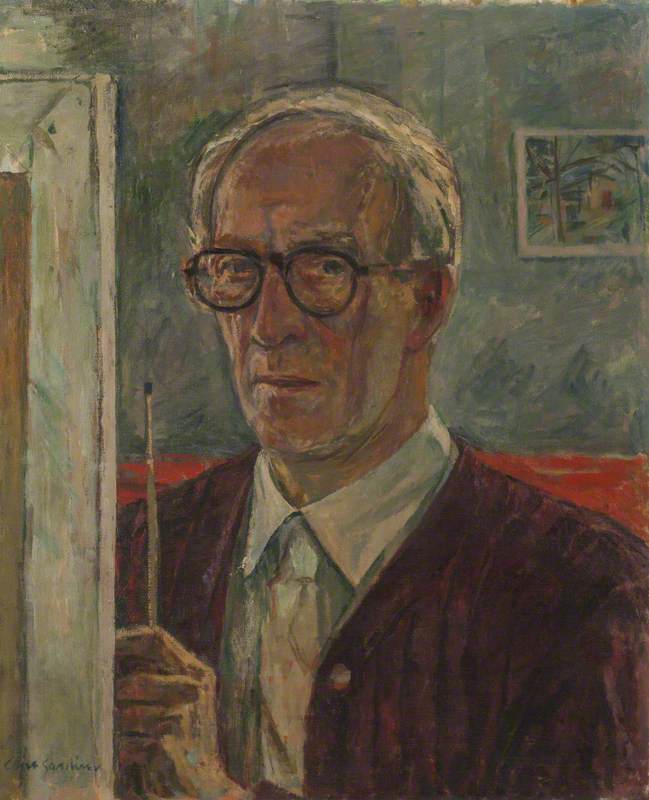 © the artist's estate. Photo credit: Goldsmiths, University of London
Designer, illustrator, printmaker, painter and teacher, born in Blackburn, Lancashire. His father was the editor of the Daily News, A G Gardiner, his wife the painter Lilian Lancaster, his son the writer and architect Stephen Gardiner. Gardiner was educated at University College School, toyed with journalism, then studied at Slade School of Fine Art, 1909–12, Royal Academy Schools, 1913–14. After World War I duties at the Ministry of Munitions Gardiner took an art teaching course, then taught at Brighton School of Art. Under the influence of Puvis de Chavannes he had shown for several years at RA and NEAC. In 1918 Gardiner became a part-time teacher at Bolt Court School of Art and Goldsmiths' College School of Art. Gardiner began to extend his range, illustrating his father's books, painting portraits and completing posters.
Read more
These included notable work for London Underground, Empire Marketing Board and Shell. On the strength of that he was appointed headmaster/later principal of Goldsmiths', 1929–57, where he had considerable influence in advancing the modern movement, his own style being successively impressed by Cézanne, Derain, Picasso and Braque. In 1936 he had his only one-man show, of paintings, at French Gallery. Gardiner carried out substantial work as a decorator, including murals for Sir John Benn's Hostel, Stepney; Toynbee Hall; and the Students' Union of London University. During World War II he advised on the design and decoration of British Restaurants. In his final years Gardiner produced small oils and watercolours in his original more reflective vein, regularly visiting the Scilly Isles. Arts Council put on a memorial show in 1963, South London Art Gallery, 1967. There was an exhibition of Gardiner's Isles of Scilly paintings at The Charleston Gallery, Firle, 2001.
Text source: 'Artists in Britain Since 1945' by David Buckman (Art Dictionaries Ltd, part of Sansom & Company)