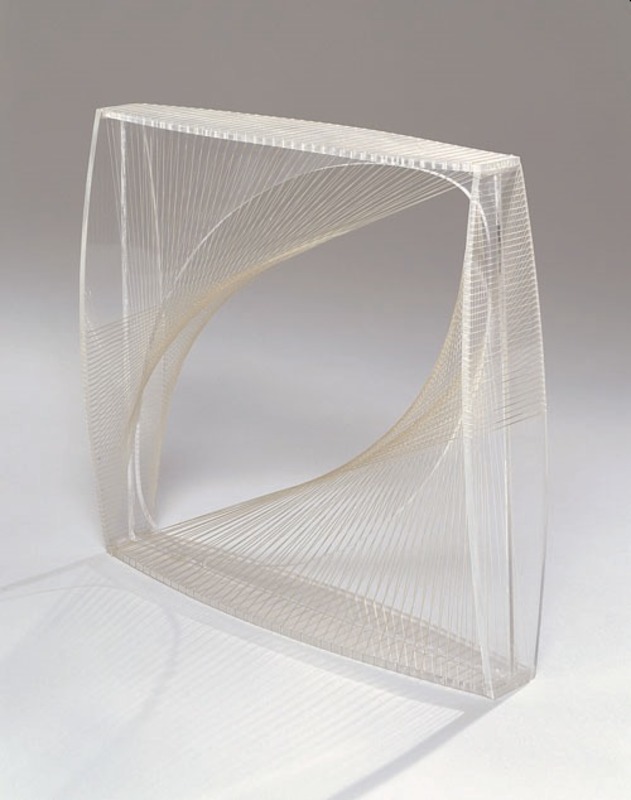 © the artist's estate / Tate Images. Photo credit: The Pier Arts Centre
Constructions artist in a variety of materials, designer, writer and teacher, born in Bryansk, Russia, as Naum Pevsner, brother of the painter Antoine Pevsner. As a young man he changed his name to Naum Gabo so as not to be confused with his brother. Gabo entered Munich University in 1910 to study medicine, then natural sciences, but also attended art history lectures. In 1912 transferred to an engineering school in Munich, in 1913–14 joining his brother in Paris. When World War I broke out he moved to Copenhagen, then Oslo, in 1915 beginning to make constructions. Although sometimes figurative, these were generally abstract, simple and beautiful using a variety of materials, notably later Perspex when he came to England. From 1917–22 Gabo was in Moscow, where he knew advanced artists such as Tatlin and Kandinsky.
Read more
In 1920 with Pevsner he produced a Realistic Manifesto outlining the tenets of pure Constructivism. From 1922 for a decade he was in Berlin in contact with the artists of the de Stijl and Bauhaus movements; with Pevsner he designed for Diaghilev's ballet La Chatte in 1926; then from 1932–6 lived in Paris, and was a member of the Abstraction-Création group. After arriving in England in 1936 he helped edit the manifesto volume Circle. By now he was married to the painter Miriam Israels, and with her he settled in St Ives, Cornwall, where he was an influential figure. Soon after World War II Gabo moved to America, where he became an American citizen in 1952, carried out important commissions and became professor of the Graduate School of Architecture, Harvard University. He had a retrospective show at Tate Gallery in 1966; again in 1976, after which he gave the gallery a group of works; there was a retrospective at the Tate in 1987; with another at Tate St Ives, 2002. Annely Juda Fine Art organised Gabo and Colour in 2004. Gabo died in Wateringbury, Connecticut.
Text source: 'Artists in Britain Since 1945' by David Buckman (Art Dictionaries Ltd, part of Sansom & Company)