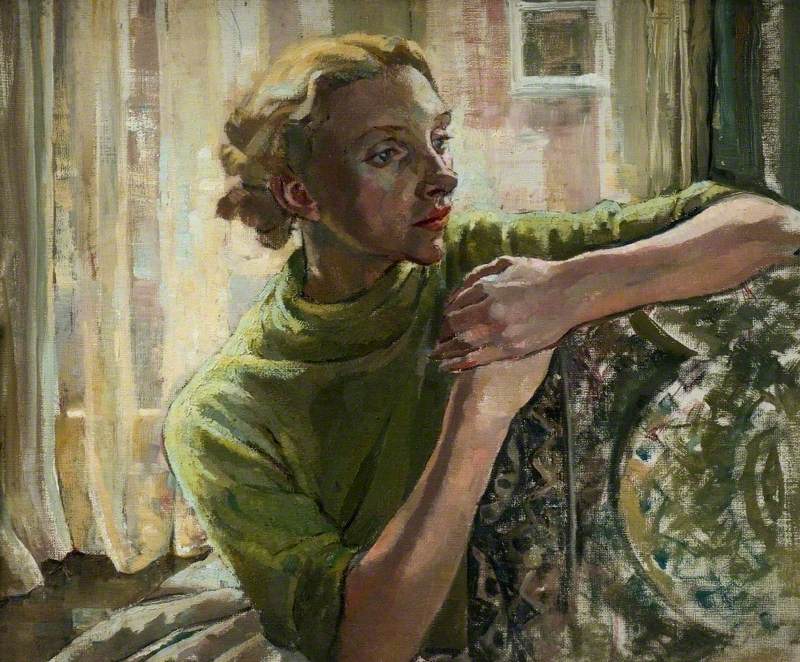 Photo credit: Watford Museum
Printmaker and painter, born in Le Havre, of mixed French and Scottish descent. She married the artist John Copley in 1913, their son being the actor Peter Copley. After spending her first 14 years in France Gabain attended an English boarding school, then studied at the Slade School of Fine Art, Collin's studio in Paris and lithography at Central School of Arts and Crafts. With Copley she was a founder-member of the Senefelder Club in 1910. Despite continuing poor health she travelled on the continent and was a prolific printmaker; turned to painting in Italy in 1924, making her first appearance with an oil painting, Zinnias, at RA in 1927. Also exhibited at Goupil, Redfern and Chenil Galleries; with Colnaghi; RSA; Walker Art Gallery in Liverpool; and was a member of RBA (which gave her a memorial exhibition in 1950), ROI and SWA (becoming its vice-president).
Read more
Gabain's favourite themes were adolescent girlhood and a figure against a window, one model – Carmen – being painted over 50 times. In World War II Gabain was an Official War Artist. Imperial War Museum holds her work, which is in other collections including Manchester City Art Gallery. In the 1930s Gabain, with scripts supplied by her husband, became a popular lecturer on art history to schools, to boost family funds. In 1985 Garton & Cooke held an exhibition of both artists' prints and in 2003 The Fine Art Society showed lithographs by Gabain with work by Mabel Royds. Lived in London.
Text source: 'Artists in Britain Since 1945' by David Buckman (Art Dictionaries Ltd, part of Sansom & Company)