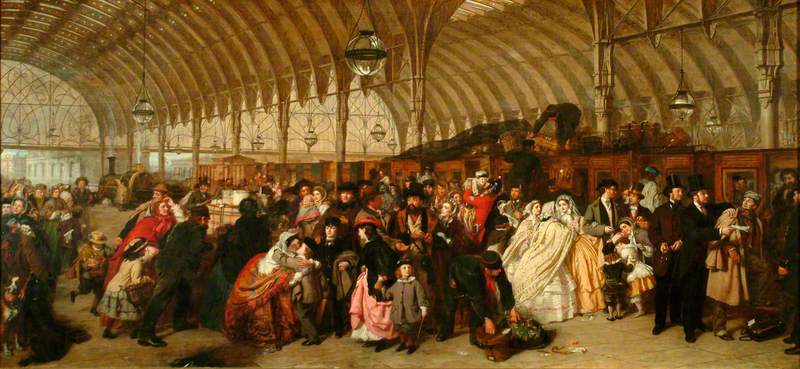 Photo credit: Royal Holloway, University of London
(Born Aldfield, nr. Ripon, Yorkshire, 9 January 1819; died London, 2 November 1909). English painter. He began his career with literary subjects (from Shakespeare, Scott, and other authors), but in the 1850s he turned to contemporary scenes, with which he had great commercial success. Three of his pictures are particularly renowned—crowded, anecdote-packed scenes that rank among the most familiar images of Victorian life: Life at the Seaside (or Ramsgate Sands) (1854, Royal Coll.), Derby Day (1858, Tate, London), and The Railway Station (1862, Royal Holloway, University of London). Derby Day was so popular when it was shown at the Royal Academy that it had to be railed off from the throng of admirers, a distinction previously accorded only to Wilkie's Chelsea Pensioners in 1822.
Read more
Frith's My Autobiography and Reminiscences (1887) and Further Reminiscences (1888) give lively accounts of the art world of his time. His reputation sank after his death but greatly revived as part of the general re-evaluation of Victorian art after the Second World War.
Text source: The Oxford Dictionary of Art and Artists (Oxford University Press)