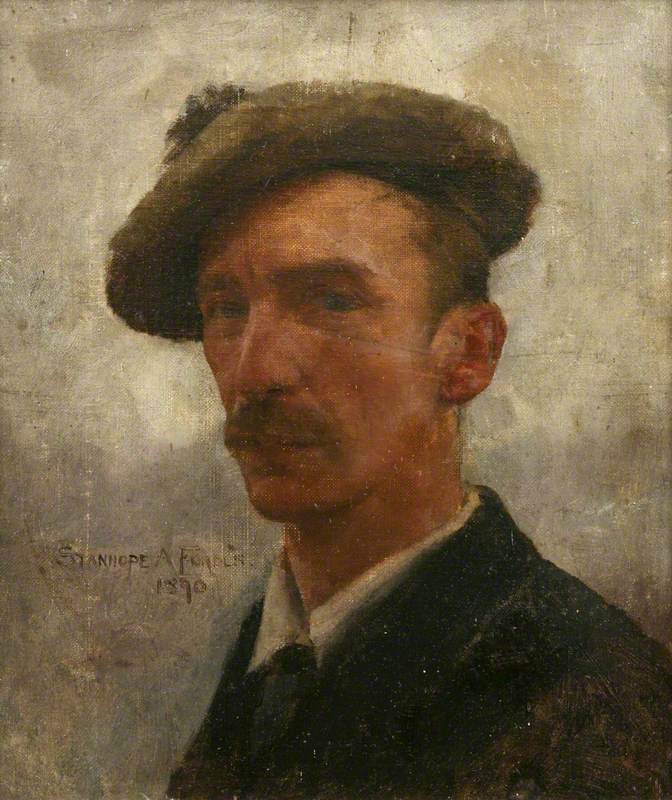 Photo credit: Penlee House Gallery & Museum
British painter, born in Dublin. His mother was French, and after studying at the Royal Academy Schools (1874–8) he completed his training in Paris (1880–82). He was impressed by contemporary French plein-air painting, and in the summer of 1881 he painted out of doors in Brittany with H. H. La Thangue, who had been a fellow student at the RA. In 1889 Forbes married the Canadian-born painter Elizabeth Armstrong (1859–1912) and later that year they settled in Newlyn, a Cornish fishing village that he 'discovered' in 1884. Forbes was not the first painter to work there, but he encouraged others to do so and was 'the centre and rallying point' (Art Journal, 1896) of the colony of artists that became known as the Newlyn School. In 1899 he and his wife founded the Newlyn School of Art, which continued until 1938, and Forbes lived in the village until the end of his long life.
Read more
His devotion to outdoor painting introduced, in his own words, 'a breath of fresh air in the tired atmosphere of the studios', and he often exhibited with like-minded artists at the New English Art Club (of which he had been a founder member in 1886). He painted landscapes, genre scenes, and historical subjects. From about 1910 his palette lightened somewhat, and figures gradually became of lesser importance in his work, but otherwise his style altered little, and his later paintings often have a nostalgic air, reflecting the realization that the world he depicted was fast disappearing.
Text source: A Dictionary of Modern and Contemporary Art (Oxford University Press)