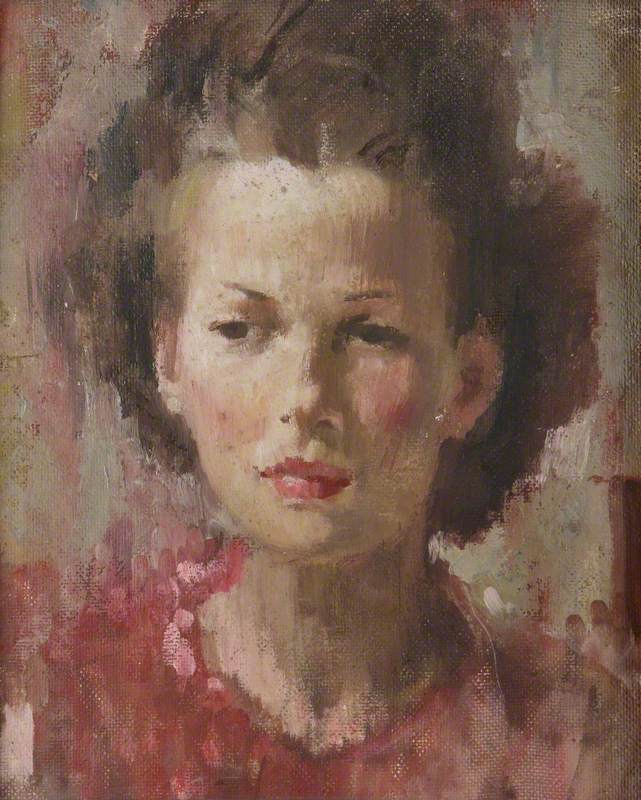 © the estate of Mrs P. Fleetwood-Walker. Photo credit: Dudley Museums Service
Painter and draughtsman mainly of figures and portraits. Born in Birmingham, where he lived most of his life. Initially was a modeller and metalworker, then studied painting at Birmingham School of Arts and Crafts, followed by London and Paris. Wounded and gassed during World War I service in Artists' Rifles, but continued to paint and draw. After war taught for about 10 years at King Edward's Grammar School, Aston, in 1929 leaving to teach at Birmingham School of Arts and Crafts. Exhibited extensively at RA from 1925 – he was elected RA 1956 – and otherwise showed mainly at RWS, NEAC, RBSA and RP. Also had a one-man show at Ruskin Gallery, Birmingham, 1925, and won a silver medal at Paris Salon. Moved to London after retirement from teaching in Birmingham in 1951 to give more time to students at Royal Academy Schools, where he had been appointed assistant keeper.
Read more
RA, Leeds City Art Gallery, other provincial and foreign galleries hold his work. Memorial exhibition in Birmingham, 1965; retrospective John Lindsay Fine Art, Solihull/Belgrave Gallery, 1981.
Text source: 'Artists in Britain Since 1945' by David Buckman (Art Dictionaries Ltd, part of Sansom & Company)