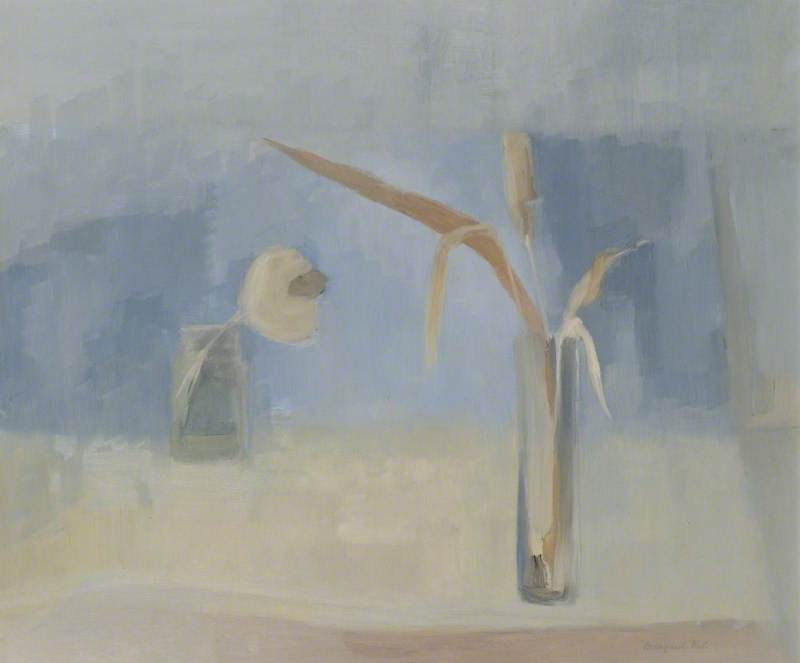 © the artist's estate. Photo credit: Alfred East Art Gallery Permanent Collection
Painter, especially of still life which latterly moved towards abstraction, born in Saltaire, Yorkshire. She rarely left the West Riding. Firth was born into prosperous circumstances, her father a Bradford textile manufacturer, surrounded by paintings and art books. Studied at Bradford School of Art from 1914–21, although her mother's health prevented regular attendance. Teachers were Fred Stead and Harry Butler. Eventually set up her own studio and additionally studied with Bertram Priestman and Arthur Reginald Smith, although for 20 years Firth found little time to paint, showing occasionally at RA, LG and in Yorkshire. After the death of her parents and brother, in 1948 Firth settled in Ilkley and began painting seriously again, attending Maurice de Sausmarez's art history lectures, travelling extensively in Italy and establishing a keen local following for her work.
Read more
This included textile collage flowerpieces and Tulips, sold to Wakefield Art Gallery in 1950. Had three solo shows at Hawksworth Gallery, Ilkley, between 1984–7, then in 1988 Bradford Art Galleries and Museums, which holds her work, organised a touring exhibition.
Text source: 'Artists in Britain Since 1945' by David Buckman (Art Dictionaries Ltd, part of Sansom & Company)