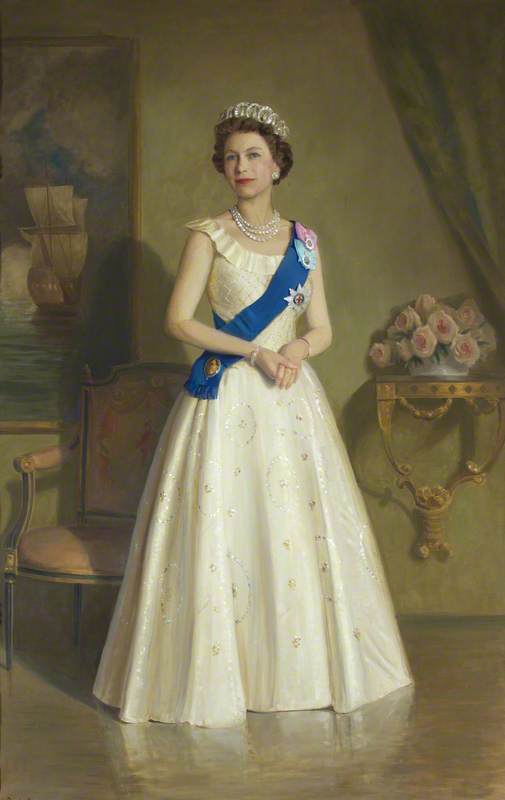 © the copyright holder. Photo credit: Bristol City Council
Painter, born in London, son of the Victorian narrative artist Sir Luke Fildes. He was educated at Stone House, Broadstairs, and at HMS Britannia and became a professional sailor, attaining the rank of commander. He was badly injured and burned when the HMS Natal was blown up at Cromarty in 1915. Invalided out, he turned to painting for a living. Early on he produced flower pictures and seascapes but, failing to find a market, concentrated on portraits. Fildes considered his finest examples were HM Queen Elizabeth II at the Royal Air Force Club; Field-Marshal Lord Montgomery, at St Paul's School, Barnes; and Sir Edmund Hillary, conqueror of Everest. The large double portrait of The Queen and Duke of Edinburgh at the Royal Naval College, Greenwich, is stiffer and less successful; Fildes was an uneven painter.
Read more
He was a member of the United Services Club and exhibited at Walker's Galleries, RA, Walker Art Gallery in Liverpool and elsewhere. For many years he was curator of the Antrobus family museum at Amesbury, Wiltshire, but health in 1973 forced him to give up residency there, and he had a bungalow built nearby. The Imperial War Museum has Fildes' archive.
Text source: 'Artists in Britain Since 1945' by David Buckman (Art Dictionaries Ltd, part of Sansom & Company)