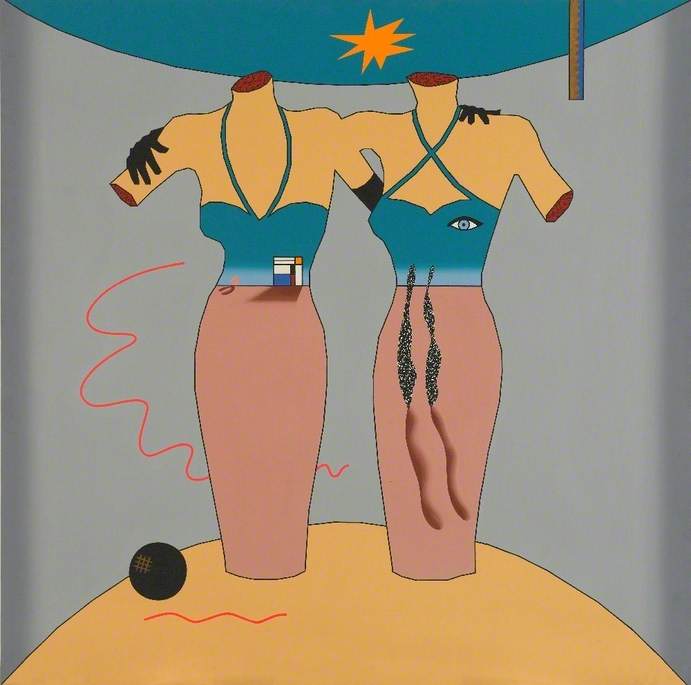 © the artist's estate. Photo credit: Arts Council Collection, Southbank Centre, London
Painter in acrylic on canvas, born in Salisbury, Wiltshire, brought up in Tidworth, who attended Chelsea School of Art, 1964–8, after briefly studying architecture at Regent Street Polytechnic. Teachers included John Hoyland, Ian Stephenson, Lawrence Gowing, Allen Jones, Patrick Caulfield and Bernard Cohen. As a student his work moved from Minimal, Conceptual and Constructivist phases to a more hard-edge, post-Pop figuration. After he had visited America for the first time in 1968, Fields said that "my perspective on life was never the same." By the mid-1970s his work included many elements that were later defined as Post-Modernism. In 1983 in Tokyo, sponsored by the Shiseido Corporation, a gallery was created especially for his show, and the artist and his work were simultaneously featured in a television, billboard and subway advertising campaign throughout the country.
Read more
In London Fields lived in a flat that reflected the 1950s–1960s, wore makeup and a Teddy Boy haircut. Mixed shows included Fashion and Surrealism, Victoria & Albert Museum, 1988. Had a solo show at Hamet Gallery, 1971, later ones including Albermarle Gallery, 1987, and Rempire Gallery, New York, 1990. Shared an exhibition with Andrew Logan at A&D Gallery, 2002; had a solo exhibition at Zimmer Stewart Gallery, Arundel, 2003; another, Digital Age, at A&D Gallery, 2004. Arts Council holds his work, which had wide international press and television documentary coverage.
Text source: 'Artists in Britain Since 1945' by David Buckman (Art Dictionaries Ltd, part of Sansom & Company)