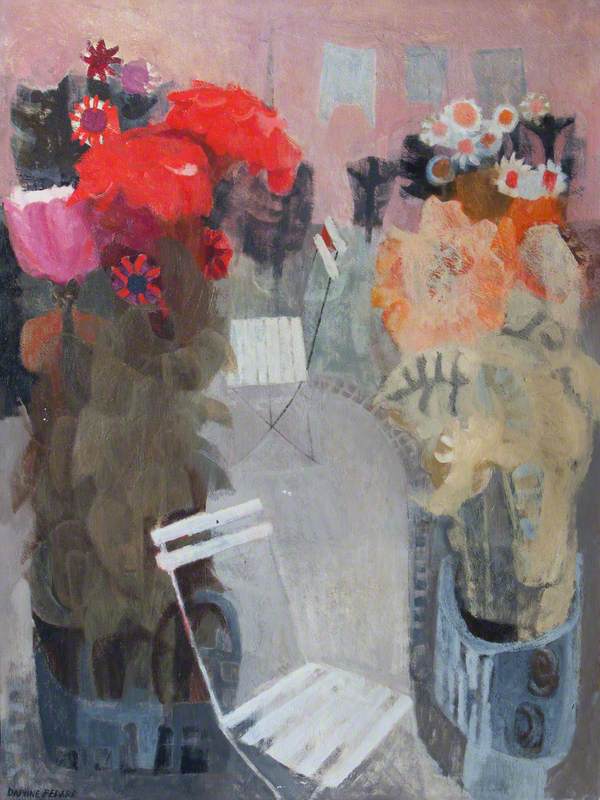 © the artist's estate. Photo credit: Girton College, University of Cambridge
Painter, born in London, who married the artist Ernest Fedarb, and whose daughter Paulette was also a painter. She studied at Beckenham School of Art, 1928–30, Slade School of Fine Art, 1931–4, then at Westminster School of Art, 1936–9, where Mark Gertler taught her painting and Bernard Meninsky drawing. She married Ernest Fedarb in 1932 and in 1935 they had a joint show at Fine Art Society. Daphne Fedarb became a member of NS, 1940–55, of the RBA in 1948 and WIAC, 1955–68. Between 1961–73 she showed work at RA, NEAC and LG, in America and on the continent. Had a solo exhibition at Gallery 34, Shaftesbury, in 1968, another at Chilham Gallery, Kent, 1972, and shared a second show with Ernest at Sally Hunter & Patrick Seale Fine Art, 1986.
Read more
Daphne Fedarb won first prize in the Laing Landscape Competition, 1981, and a second prize in 1983, and gained the RBA De Laszlo Medal in 1982. Lived in Nackington, Kent.
Text source: 'Artists in Britain Since 1945' by David Buckman (Art Dictionaries Ltd, part of Sansom & Company)