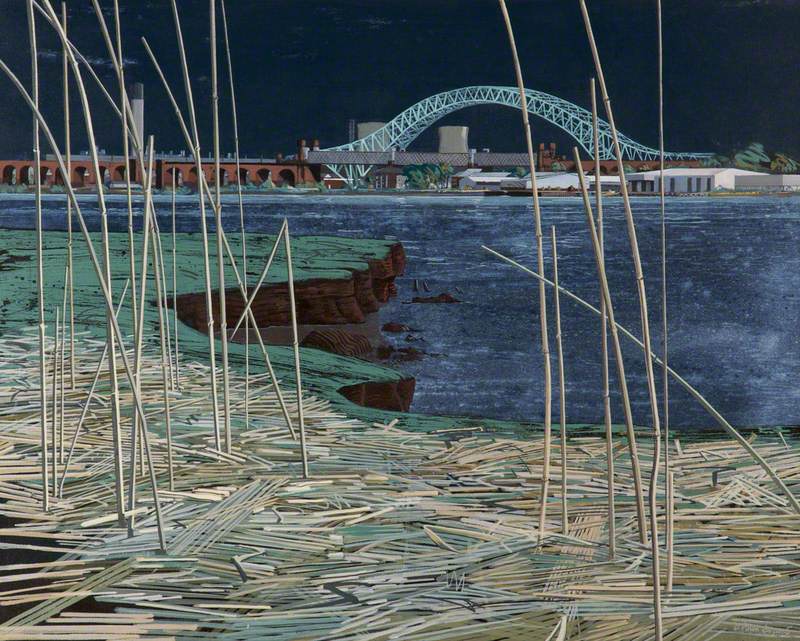 © the artist. Photo credit: Grosvenor Museum
Artist, teacher and designer, born Haverfordwest, living in Narberth, Pembrokeshire. He studied fine art at Newport College of Art & Design, 1963–7, teachers including Lil and Tom Rathmell, Ernest Zobole and John Selway; completed the postgraduate teacher's certificate at Hornsey College of Art, 1967–8; worked as art master at Somerset High School, Tottenham, 1968; was product designer with SDC Products Ltd, 1969–70; then lectured in fine art at Cheshire School of Art and Halton College, Cheshire, 1970–96. Showed widely solo and in two-man and group exhibitions. From 1964 Evans was associated with the Rhymney Valley, south Wales, marrying a fellow art student, Elizabeth Beaton-Jones, who had been born and grew up there. Although the Bargoed coal mine was the third largest in Europe, it closed and in 1995 Evans learned that its massive waste tip was to be removed and the area landscaped, which inspired his show Black Wound, Newport Museum and Art Gallery and tour, 2000.
Read more
National Museum and Gallery of Wales, Cardiff; National Library of Wales, Aberystwyth; Atkinson Art Gallery, Southport; and other public collections hold examples.
Text source: 'Artists in Britain Since 1945' by David Buckman (Art Dictionaries Ltd, part of Sansom & Company)