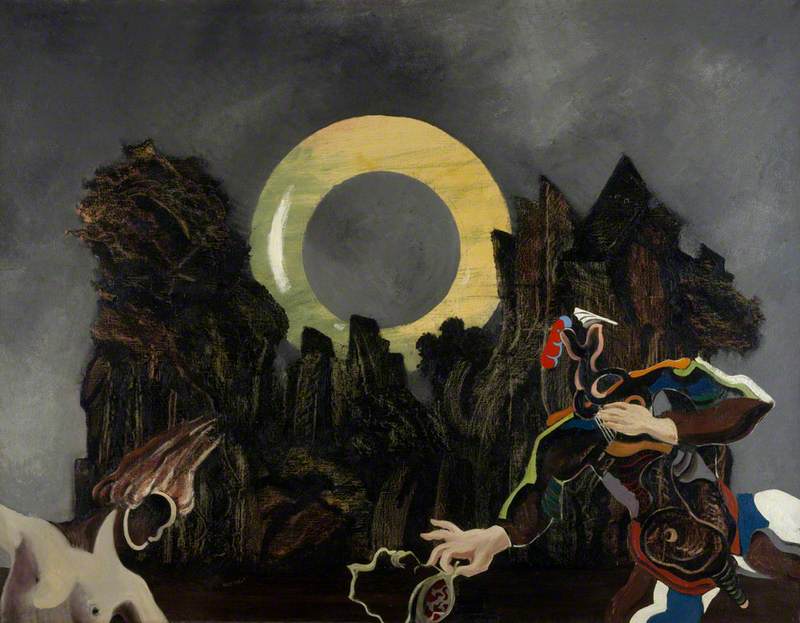 © ADAGP, Paris and DACS, London 2022. Photo credit: National Galleries of Scotland
(b Brühl, nr. Cologne, 2 Apr. 1891; d Paris, 1 Apr. 1976). German-born painter, printmaker, collagist, and sculptor who became an American citizen in 1948 and a French citizen in 1958, one of the major figures of Dada and even more so of Surrealism. He studied philosophy and psychology at Bonn University, but he became fascinated by the art of psychotics (he visited the insane as part of his studies) and neglected academic work for painting. After serving in the First World War he became with Arp (his lifelong friend) the leader of the Dada movement in Cologne. In 1920 he organized one of Dada's most famous exhibitions in the conservatory of a restaurant there: visitors entered through the lavatories, and axes were provided so they could smash the exhibits if they felt so inclined.
Read more
In 1922 Ernst settled in Paris, where he joined the Surrealist movement on its formation in 1924. Even before then, however, he had painted works that are regarded as Surrealist masterpieces, such as Celebes (1921, Tate, London), in which an elephant is transposed into a strange mechanistic monster. The irrational and whimsical imagery seen here, in part inspired by childhood memories, occurs also in his highly original collages. In them he rearranged parts of banal engravings from sources such as trade catalogues and technical journals to create strange and startling scenes, showing, for example, a child with a severed head in her lap where a doll might be expected. He also arranged series of such illustrations with accompanying captions to form 'collage novels': the best-known and most ambitious is Une semaine de bonté (A Week of Kindness), published in Paris in 1934. Another imaginative technique of which he was a leading exponent was frottage, which he invented in 1925. In 1930 he appeared in the Surrealist film L'Âge d'or, created by Luis Buñuel and Salvador Dalí, and in 1935 he made his first sculpture (he worked seriously but intermittently in this field, characteristically creating totemic-like figures in bronze). In 1938 Ernst broke with the Surrealist movement, but this did not affect his work stylistically. He was interned for a short while after the German invasion of France and in 1941 moved to New York, remaining in America until 1953 (apart from a visit to France in 1949). While in the USA he collaborated with Breton and Duchamp in the Surrealist periodical VVV. He settled permanently in France in 1953 and in his late years acquired many honours, including the main painting prize at the Venice Biennale in 1954. His painting of this time became more lyrical and abstract. Ernst was married four times. His third (very brief) marriage was to Peggy Guggenheim; his fourth wife (married 1946) was Dorothea Tanning (b1910), one of the outstanding American Surrealist painters. In the late 1930s he lived in Paris with the British-born (later Mexican) Surrealist painter and writer Leonora Carrington (1917–2011). His son Jimmy Ernst (1920–84) was also a painter.
Text source: The Oxford Dictionary of Art and Artists (Oxford University Press)